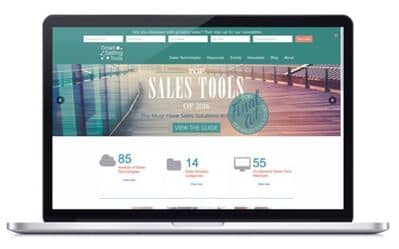 Nancy Nardin is the president and founder of Smart Selling Tools, Inc., a Sacramento, CA-based consulting firm that specializes in sales productivity and sales performance improvement through the use of smart sales technology. She is also the co-founder of Hushly, and has a stellar track record of nearly 30 years in sales leadership roles at leading analyst firms such as Gartner Group and IDC.
The SmartSellingTools.com website has won numerous awards, and ranks among the Top 50 most retweeted by B2B Marketers. Nancy has been recognized in Forbes as a Top 30 Social Sales Influencer, and has been named as one of the world's top 25 helpful sales blogs by HubSpot. Nancy's weekly newsletter is read by over 30,000 marketing and sales professionals, and the "Top Sales Tools of the year" listing on the SmartSellingTools.com website is a widely used resource.
Q&A With Nancy Nardin, President and Founder of Smart Selling Tools, Inc.
Q: How did you go from being a sales industry leader to a sales industry influencer? In other words, what was the idea you had that led you to start Smart Selling Tools in 2006?
A: My first sales position was with GRiD Systems in the early '80s. GRiD created the world's very first laptop computer, even patenting the "clamshell" design where the display folds down over the keyboard. The laptop paved the way for applications aimed at field salespeople. Suddenly, there was a need for more than what traditional office applications could do. It was then that CRM came in to being. Then, about ten years ago, I started to see new solutions popping up. Things like Sales Enablement and lead list-building tools. Having had a successful 2-decade career in sales, selling to large enterprise accounts, I thought I could help sales organizations make sense of all the options and at the same time, help vendors of sales solutions understand the needs of sales leaders better. It helps to have been involved in the industry since the beginning and to have the sales background.
Q: I think one of the things you recommend is a "sales energy audit." Can you elaborate a bit on that?
A: You know how someone might come in to do an energy audit of your home or building to see where you're wasting energy? You may be losing heat due to inadequate caulking around doors or windows. Or perhaps your HVAC unit or insulation could be improved. You do the audit and make investments because you get an ROI over the long run.
The same is true with a sales energy audit. There's a lot of "wasted energy" in the sales process. Things like spending 15 minutes at a time to prioritize activities, manually leaving the same voicemail message to multiple individual prospects when that same message could be "dropped" and delivered automatically, or searching the Internet for the right prospect names and contact details. It's the equivalent of cranking the heat and leaving your front door open on a winter day. It's wasteful, it raises your cost of sales, and it results in a lower performance level than you could otherwise obtain. So we recommend companies do a sales energy audit to determine where they're leaking sales energy and what can be done about it.
Q: Anything else you would like to recommend as a best practice?
A: Yes. If you think CRM is all you need… think again. CRM is not a productivity tool, nor does it help salespeople be more effective. It's useful as a system of record but it does not save salespeople time nor does it provide useful insight that helps them sell better. Look for other tools that augment CRM if you want to increase sales performance. There's a lot to think about and it's hard to go it alone.
While we offer a lot of resources on our site, I know how overwhelming all of the options can be to figure out and apply. I offer private advisory sessions so I can take the time to get to know you and your needs and make a set of informed recommendations. To learn more, you can email me at [email protected].
How to Select the Right Sales Tools For Your Organization
Q: Let's get down to sales tools. You can find sales acceleration tools, inside sales tools, sales intelligence solutions, solutions for pipeline management & dealflow, predictive sales analytics and more on SmartSellingTools.com. I'm not asking you to pick specific tools out of your listings, but maybe you can share how to pick? Any tips on how a sales organization should go about selecting the right sales tools?
A: Start with an understanding of your challenges. Ask, "What's keeping us from selling more." We offer a 3-step guide to building your sales stack that includes several checklists people can use to identify where their challenges lie so they can then decide where to start. Sales leaders tend to think in terms of skill-sets when looking to close more deals. That's good, however, salespeople need the right tool-sets as well. Skill-sets are the "Art" of selling, while technologies that assist with the execution of that art, are the tool-sets. Don't feel you need to make it a huge project either. Start with a solution that has a short time-to-value and a low effort-to-value. eSignature tools, email tracking tools, sales intelligence tools and even tablet presentation apps for field salespeople.
Q: Any thoughts on the future of marketing and sales technology? Where is it going, and what should we do to be ready to adopt and integrate new tools as an organization?
A: Technology should be thought of as a strategic advantage. It should allow your salespeople to get in the door faster; to build better relationships with customers and prospects; to close more and bigger deals. If you're not using technology to give your organization a strategic advantage, you can be sure your competitors will be. It can't happen on its own. You'll need to assign responsibility to someone in the organization who is committed to—and perhaps measured by—their ability to deliver a lean-mean-selling machine through the use of smart selling tools. Don't let vendors pull you in one direction or another. Stay on top of the sales tech landscape and make deliberate, informed decisions as to which technologies make the most sense for you. And if you need help, let me know.