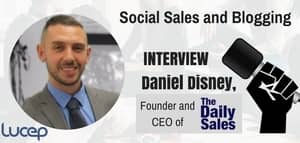 Daniel Disney is founder and CEO of The Daily Sales, a popular website and sales blog with more than 150,000 followers across the world. Daniel is a social selling expert, sales blogger, keynote speaker, sales coach and consultant.
He is also a Fellow of the Institute of Sales Management (ISM), listed on the Rise Global List as a global sales expert, and a sales lecturer at Portsmouth University.
Q&A With Daniel Disney
Question1) Can you tell us more about yourself – some background information that is relevant to your success as a social sales expert, blogger and coach?
Dan) Well, I've technically been selling since I was 8 years old, although I got my first real sales job at 16 and have worked in the industry ever since. It's my passion for sales and my extensive experience that has helped me create a global leading sales blog and become classed as an expert.
Question2) What is The Daily Sales, and what kind of coaching and consultancy services do you provide to help clients increase sales?
Dan) The Daily Sales is a mix between a sales blog and sales channel. We share the best sales content from articles, blogs, quotes, interviews, book reviews and memes to sales people every single day. We grew to reach over 7,000,000 people a month in less than a year and continue to grow month on month. Our content is free to those who follow us and we then work with the best companies offering sales products and services to help them advertise to our audience.
Question3) What do you like about sales? Do you have a special story or incident that highlights what you like best (or worst) about what you do in sales?
Dan) The very first sales job I had was as a kitchen designer and I can remember to this day the first kitchen I ever sold. I spent around 3 weeks designing it with this couple making sure it met their requirements and capturing all their ideas. One month after their kitchen had been fitted they came in to thank me and showed me pictures of it all fitted in and set up. That's when I realised sales was about helping people.
Top Tools for Generating Social Sales
Question4) What kind of tools do you use for social media marketing?
Dan) I use 2 tools mainly, Hootsuite to schedule content and Canva to create content.
Question5) Your tips for organizations who need to get more leads from social media and sales blogging?
Dan) The biggest tip is consistency. You need to create a pulse of content going out, whether it's one post a day or one post a week, stick to something. My other key tips are to try and create/share quality content and make sure it meets the needs of your target audience, not just want you want to share.
Question6) What is the difference between B2B and B2C sales on social media? How do you approach B2B sales?
Dan) There's a big difference in that each sector interacts differently on social media. B2B sales is mainly on LinkedIn with a small percentage then on Twitter and Facebook. Each social platform has it's common do's and don'ts so make sure you understand your audience and the platform you chose to communicate to them on.
Question7) Any other tips and advice for sales professionals?
Dan) Absorb the immense amount of learning available around you. Read sales blogs, read sales books, listen to podcasts, watch videos, attend sales events, there is so much out there to help you learn, develop and grow into a true target hitting sales professional.