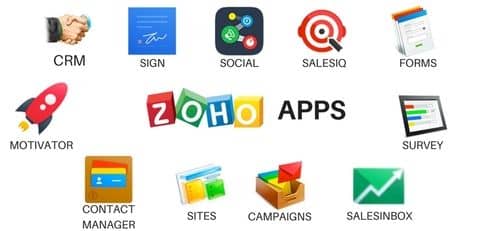 Zoho is one of the world's most popular CRMs, and it's not just because of the features and functionality. The best part about using Zoho as your CRM is that it integrates beautifully with the rest of the Zoho suite of apps and marketing automation tools. In this post, I want to share with you a couple of examples of how this works.
Set Up Your Zoho CRM
If you're new to Zoho, you just need to sign up (they offer a 15-day free trial). There are tabs for all the leads, deals, contacts, accounts (organizations you deal with) and activities for each one of these. They're already linked, so you can add or import new deals and leads, set the lead source and other details, and choose the contact and account it belongs to.
Once you're all set up with your leads database, we can move on to set up your most important integrations such as web forms and live chat. This is where Zoho differs from other CRMs, because the integration is done with a dedicated and standalone tool.
Integrating Zoho CRM with Zoho Forms
If you're already signed in to your CRM, then you just have to visit forms.zoho.com, and you'll get this form to create a new form. You can choose existing form templates, or create a new one. There are different forms designed for your field, including education, construction, eCommerce, healthcare, HR and business forms.
Click on "Use this Template" and you'll get a customization screen that allows you to set the form properties, fields, description, labels, etc. Save the form, and choose Integrations from the menu. Click on the integrate button, and select a Zoho CRM Module (leads, deals, accounts, etc.). There's nothing more to be done. You can access the form online, and data entered by your site visitors will automatically be added to your CRM.
Integrating Zoho CRM With Web Forms
You can just as well create custom web forms to push data from the form to your CRM. Go to the "Projects" tab on the menu, and then click "Extensions & APIs" from the menu on the left. The last option in the dropdown menu is Webforms.
Choose the module (leads, contacts, cases) and select "Create web form." You can select the fields you want in your web form, upload a file for branding, and Captcha (if needed).
This is how easy it is to integrate web contact forms and automate lead generation from your website when you're using Zoho CRM with the Zoho Forms App or Webforms. You can do the same with other marketing automation and customer engagement tools such as Zoho SalesIQ, Survey, Cliq, etc. Combining and integrating all these Zoho apps with the CRM ensures that all your leads from all your online marketing channels flow through into your centralized leads database, to which you can then apply a uniform qualification, scoring and sales process.