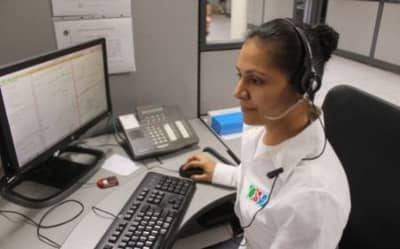 In this article, we're going to look at how to efficiently automate the manual and repetitive parts of your sales prospecting process.
First, what is an inside sales dialer? It is a calling system that dials a list of numbers who are prospects for the business.
It's called an inside sales dialer because the calls, once connected, are responded to by members of a remote team. This inside sales team speaks to the prospects on the phone, and engages them further using other digital channels.
How to use automated dialers as your sales assistant.
Every sales manager would like to provide each member of your sales team with an assistant to handle the routine tasks associated with sales prospecting. You can do this at scale (without the cost or overheads) using automated dialers.
This is how a typical manual sales prospecting process works for an inside sales team - Every morning, a contact centre or digital marketing team picks up the leads coming in from your website, social media, email, etc. and adds it to a spreadsheet or CRM that is then used as a calling list.
They will validate the phone number, and ask a few basic questions to qualify the lead, find out which product or service the lead is interested in, what is the location, and whether they are interested enough to speak with a sales consultant or dealer who serves that location.
Sales qualified leads are then distributed to the relevant sales agents, and they will continue the conversation with the interested buyer. The question we're looking at here is - how do you automate this process up until the sales agent takes over?
1. Integrate a lead acquisition tool to pickup up leads from website forms, Facebook ad form fills, LinkedIn lead generation campaigns, and email marketing link clicks, and pipe them into your CRM.

2. Validate the phone numbers instantly using an IVR that calls out to each number and gets a "Yes" or "No" from prospects to verify if they have actually filled up a form and are interested in learning more.

3. If they don't respond on the first call, automatically send an SMS that asks them to click on a link and verify their interest.

4. This can be followed up the next day with an automated email and Whatsapp message to take it further and request an appointment, so the buyer can speak with a sales consultant at a scheduled time.
Lucep's sales dialer automates this first step in the lead cleansing process, starting engagement instantly at the moment of intent.
Lucep integrates directly with your Facebook Lead Ads, picks up the form fill details, and instantly engages customers with automated phone number validation.
Using Lucep is cheaper and more efficient than a manual validation process done by sales development representatives at a call centre.
Prospect interest - Marketing automation beyond phone calls
Studies have shown that you get 21% more conversions with omnichannel customer engagement across more than 2 channels.
To this end, Lucep takes the buyer journey forward through a sequence of customised cadences, continuing to contact the customer up to 10 times across different channels including SMS, email, web links and Whatsapp.
This omnichannel engagement gives you a more accurate assessment of prospect interest, based on responses and actions taken across multiple channels
Sales ready leads
Lucep enables your sales team to do what they do best - talk to interested buyers and convert them into customers.
But what is your sales team's definition of a qualified lead? Does your sales team only call back customers when they have agreed to a test drive, site visit or demo?
Lucep's sales dialer can be customised to set up a series of calls aimed at moving the buyer forward towards this stage where it becomes a sales ready lead.