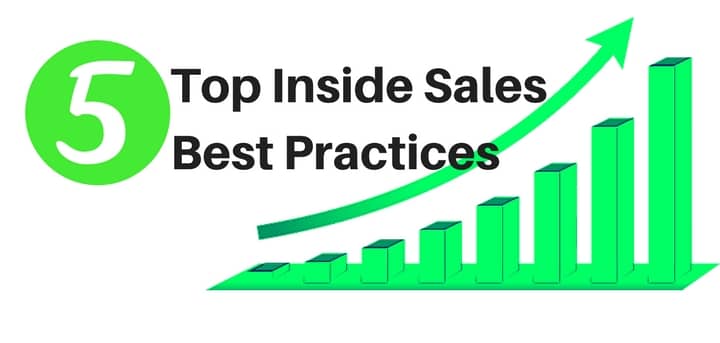 As part of an effort to provide value for our customers and readers, Lucep regularly seeks out tips and guidance from sales industry professionals and topic experts. Today, we bring you something that every inside sales professional needs to know – best practices shared with us by a sales expert who is also one of the top ranking Directors of the American Association of Inside Sales Professionals.
With 14,000 members globally, The AA-ISP is an international association dedicated exclusively to advancing the profession of Inside Sales.
The Association offers an wonderful opportunity for inside sales professionals to learn the best practices across the globe and see what's happening in other parts of the world which works best for them.
Our intention with this post is somewhat similar. Provided below are some key highlights from our conversation with a reputed sales expert, along with detailed suggestions included in the relevant sections of the conversation.
These inside sales best practices are collected from a conversation we had with Sudipta Mukherjee, Director, International Operations, American Association of Inside Sales Professionals ( AA-ISP).
1. How do you structure an inside sales team?
The most important thing for inside sales companies who want to begin their journey is that it always starts with people. I would always say hire the right talent, hire the right people. Whether you are a startup or you are already a mature company from any business sector or function, getting the right people is very important.
hire the right people. Whether you are a startup or you are already a mature company from any business sector or function, getting the right people is very important.
The reason why it is very important for inside sales also is that if you see globally – and this is especially prevalent in the areas where companies are just setting up inside sales or just thinking of venturing into inside sales – they take people who are good at direct sales or field sales, and put them to work in inside sales.
This is a common practice in many companies across the globe. I would leave out America, because the U.S. is much more mature. But outside the U.S., you'll find this trend quite prevalent, where direct sales team members who have performed well are asked to join or lead the inside sales team.
It has worked well for some companies, but it might not work for everyone. It doesn't mean you will do well in inside sales just because you've done well in field sales or direct sales, because it's a completely different ball game.
Yes, basic sales skills remain the same. But in inside sales, you add the complexity that you don't meet the person face to face. You have to accept the fact that you are not physically meeting that person. So somebody who has really done wonders in sales – in direct sales, they may or may not be able to perform in this area, so you need to look for that skill set when hiring.
2. Invest in the right tools.
Can you set up an inside sales team with just having a call center approach? You can set up a home line, you can buy Skype for Business, you can use some freely available tool to talk to customers. It still doesn't work. A very important thing – invest in the right tools. If you search for inside sales performance tools, or inside sales platform, there are many of them, globally and locally, that one can invest in. But I would say that investing in the right tools which go well with your budget as well as your customers is very important.
3. Set the right goals – scalability, long term performance and cost reduction.
The third thing is that when you start your inside sales division, it is very important that you have timelines in mind, in terms of your plans. Don't expect this to be a quick turnaround. Don't expect this to be done in a month or in the next quarter. Doesn't happen. In the US, it started more than two decades back. For example, companies like IBM and Oracle have really gone ahead of the curve in adopting inside sales.
In fact, IBM has taken this to the next level and termed Inside Sales roles as Digital Sales. There are many other companies, even the likes of Fortune 500 companies, who are still adopting. So expecting miracles within a quarter is something one should really avoid. I would add by saying that the approach of getting an inside sales team is not just cost reduction. Yes, cost reduction is a part of it. No doubt at all. Because you completely do away with the travel cost, getting into flights, traveling overseas, etc.
What you should focus on is how efficient is your inside sales team, how efficient is your inside sales model. For example, if you are a field sales executive or a direct sales person, you would do a maximum of three meetings per day. Maybe it can go up to four if you have 2-3 clients within the same area. That would be a big number in a direct sales role, whereas in inside sales, in an 8 to 9 hour shift of work, you can at least do 3 to 4 demos. You can make over 10 good quality customer calls which could be prospecting for new business or account management related calls. Imagine the efficiency of the performance in terms of leveraging the technology, and how one can perform well and scale up. So scalability, long term performance and cost reduction should be the approach, and not just the cost reduction.
4. Use the right inside sales model – in house, outsourced, or BOT.
See, there is no perfect answer to that. There are advantages to both ways. I would suggest that the business owner takes the call understanding the product or service that they are selling.
While I say this, I must say that it works even when you outsource. But my personal view is that it is always better to have your team built up if you have your future planned. If you really believe in the inside sales model, then it is always better to invest in your team and build a team.
The perfect or smarter way could be, since you're starting new or fresh, you hedge your risk. How do you hedge your risk? You hedge your risk by setting up your team as well as partly outsourcing it. When you outsource it, give it to an experienced company. By then, what will happen is that you learn from that company as well, and then you can clearly differentiate between the performance internally as well as externally.
Another model I would like to mention here is the BOT model – Build, Operate and Transfer. So somebody who wants to outsource but they're also very curious about inside sales, very positive about inside sales, they should adopt the BUILD, OPERATE AND TRANSFER model, which I think is a great model.
5. Provide the right training from AA-ISP Inside Sales Academy.
For training, there are lots of options. Just google, say inside Sales academy, or inside sales training company. I would request you to take reference of AA-ISP. Our Association also has a course for certification and academic course for reps as well as leaders in Inside sales. We have an Inside Sales Academy which runs 4 to 6-month online courses, followed by live sales coach examinations taken online, through the inside sales calling model.
Even if you are hiring a fresher or somebody who has no experience of inside sales, you can train that person in an online course, and you can do it in double quick time. This is a really good option which a lot of small and large companies have been adopting while setting up or ramping up their inside sales teams.
Apart from the Inside Sales Academy from AA-ISP, there are many private agencies and consultancies who are offering inside sales coaching. While you choose them, just ensure that the person is really from an inside sales background. Because with the increase of inside sales business, a lot of coaches and consultants with direct or field sales experience are converting themselves into inside sales coaching or training companies. It is not wrong, but these coaches must really have their own inside sales experience.