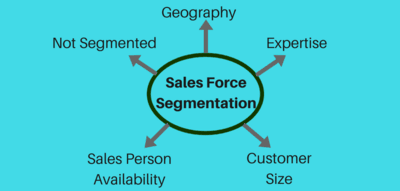 In this post, I'm going to share with you some data and ideas on the importance of sales force segmentation and the factors on which this segmentation usually occurs.
This from a market study report provided to us by a research team from the Haas School of Business, UC Berkeley, and Professor Wasim Azhar, a professor of marketing at same institution.
Before getting to the data in the report prepared for us by the IBD researchers, let's just take a minute to look at the importance of sales force segmentation.
Why Sales Force Segmentation is Important
Lucep being a sales acceleration tool that enables instant response, we asked the team from UC Berkeley to interview sales leaders and managers on issues such as how they respond to leads, the relative importance of lead qualification vs fast response, etc.
One of the offshoots of the conversations was that we now have a better understanding of how sales organizations go about structuring their sales teams, and why.
To reduce lead qualification friction and competition, sales team structures are segmented and hierarchical as opposed to flat. Throughout the interview process, "return on effort" was a continuous theme from a time management, team morale and individual motivation standpoint. Simply stated, salespeople are best motivated when they can see a return on effort ­ where they can see a clear link between effort put into building the lead and reward received for closing the lead.
Any sense of competition within the team where effort may be fruitlessly spent prospecting the same lead as their colleague or any sense of unfairness where leads allocation does not correlate with effort is a team demoralizer. Therefore, most sales organizations create some sales team structure that defines clear sandboxes for each salesperson to own and develop. Based on our survey, the most prevalent form of sales team segmentation is by geography.
An interview with Professor Wasim Azhar shed some more light on these segmentation factors and sales force management principles.
"In the US, individuality is accepted more. There is also a greater culture of teamwork (especially in Silicon Valley). With the right culture, competition over leads should not be an issue." – Prof. Wasim Azhar, Haas School of Business, UC Berkeley.
How to Do Sales Force Segmentation
In fact, as you can see in the chart above, we have survey data on the most prevalent forms of this segmentation – by geography, product expertise, customer size, and availability of sales representatives. Here's what the report says on this.
1. Geography:

Product: Company is selling a narrow product line in diverse geographic areas. Buyers have less pronounced technical needs and there is less variety among buyer needs.

Challenge: One salesperson must represent all products to all customers in the region, requiring greater breadth of product knowledge, marketing skill and qualification capability. This means salespeople are often challenged to manage time efficiently and sales force managers need more robust systems in order to track personnel performance when employees are remote.

2. Product Expertise:

Product: Company is selling a broader array of product lines and the company's overall product portfolio has a significant amount of technical variety ­ necessitating specialized product knowledge to sell. The market tends to be more volatile, necessitating a greater need for new product volume to be pushed out to the sales team in order to maintain "freshness" in the marketplace.

Challenge: Segmentation by product expertise presents significant challenges in terms of territory overlap and the potential for sales team inefficiencies as multiple sales people may be calling on the same customer to talk about different products.

3. Customer Size:

Product: Customer size segmentation is utilized where specialized customer oriented knowledge is needed. In addition, customer is looking for communication efficiency and desires the convenience of only having one sales person call on them that understands the unique challenges of their specific business model (startup, SMB, enterprise).

Challenge: Segmentation by customer size presents challenges in high growth market where small businesses can quickly grow to businesses ­ blurring the line between SMB­-specific and enterprise­-specific sales teams that may not want to share customer information and transaction accounts that they spent the time developing.