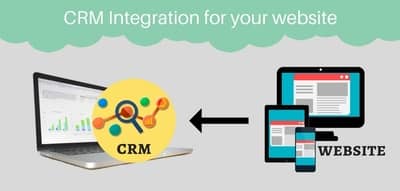 As the number of leads generated by your website grow beyond a certain point, it becomes difficult to manage and keep track of each lead using a simple database or spreadsheet. Plugging in a CRM solution to your website is bound to make this job easier, so that you can concentrate on selling instead of the process of selling.
Sales expert Nancy Nardin said in an interview with Lucep that "If you think CRM is enough, think again." But let's not jump the gun. First, let's help you figure out how to integrate your CRM with your website, and then we'll take you a step ahead from there.
Instead of giving you a big page of general outlines on integrating a CRM with your website, I went ahead and did some research on all the major CRM tools and found their guides on how to integrate that particular CRM with your website.
1. Freshsales
A hugely popular customer support and helpdesk solution Freshdesk has come up with Its very own CRM called Freshsales with the help of which you can now use AI-based lead scoring, built-in phone, email, activity capture and more, to find the best leads and have better sales pipelines.
FreshSales knowledge base comes up with loads of answers to different queries on the CRM. Here's a section from the same knowledgebase on how you can add leads manually or automatically to fresh sales. This might come handy when you get the CRM and are about to integrate it with your website.
They even have a sales training academy of their own for Freshdesk customers that will help you stay uptodate with its features and the latest advancements.
2. Salesforce
Salesforce is the world's leading CRM software. An internal market research conducted by the company has revealed that 70% of all users and more than 88% of Fortune 100 companies use at least one Salesforce App.
If you are one of their new users and need help integrating Salesforce with your website, here are the guidelines for setting up Web-to-Lead functionality in Salesforce. You can always go to Salesforce help section and get more details on the challenges you face while integrating it with your website.
3. Hubspot
HubSpot CRM is again one of the more popular and also a leading CRM which is currently available on the market. The CRM is also a certified, premier Google partner, and is a solution that suits well all niches and industries. It is a solution ideal for companies that are still starting to recognize the value of CRM and want to try it out or for enterprises that are not using their existing CRM systems to their fullest potential.
For integrating Hubspot with your website you will have two options. If your site or blog is on WordPress, then you can use the Hubspot WordPress plugin. Other websites can build embeddable Hubspot forms.
4. Pipedrive
Pipedrive is another simple yet powerful sales pipeline management tool loved by many small and medium sized sales teams. It organizes leads in such a way you'll always have a great overview of sales, and makes you focus on the important deals first. It is also considered one of the best CRM for managing sales pipeline.
Pipedrive's customizable web forms help you generate leads. These customizable forms when placed on your website will automatically add the information entered as new leads in the CRM.
5. Zoho
As businesses are moving closer and closer to cloud computing. it has become important that you have a marketing strategy online to promote your products and services and gather data from there as well.
Using Zoho CRM's features such as web forms, auto response rules and forms to unsubscribe, you can gather this valuable data with ease and build multi channel communications to improve business. The website integration guide includes web forms, auto response rules, unsubscribe form, and Zoho CRM for Adwords.
6. Infusionsoft
With Infusionsoft customer tracking software, you can have key details about every customer, such as their last purchase or conversation, right at your fingertips. Armed with such impactful data, you can target leads with personalized messaging. Infusionsoft CRM lets you do just that and more, to cater to all your needs and help you stay organized as your business grows.
This contact management installation manual will help you right from creating and managing contacts to creating and managing companies in Infusionsoft. For capturing leads, you need to launch the "Simple Lead Capture For Sales Teams" campaign which can be downloaded for free from the Infusionsoft marketplace. After getting the campaign, you will gain access to customizable pre-built web forms to be placed on your website. When someone submits a form, a sales opportunity is created and assigned to a sales rep to follow up.
7. Sugar CRM
Sugar CRM is a commercial open source application whose primary deliverable is to build and maintain relationships with the customers. It comes with a highly intuitive user interface which helps make sense of these different elements of your business. There's some good news for eCommerce websites as well. If you integrate Clarity Connect with Sugar CRM, you can even perform additional activities such as order and billing management, shipping and fulfilment and financial planning as well.
The integration benefits also include monitoring and managing leads, customer and accounts logins and real time insights into your inventories. The web-to-lead form of Sugar CRM allows you to capture your website visitors from your website or other online locations to become leads in your CRM.
Almost all of these CRMs offer free trials. Sign up, play around with it, and find out which one is right for your organizational needs.
All these CRMs will allow you to add leads manually into their systems. To make this process automated, what you need to do is integrate your CRM with a marketing automation tool or sales enablement software. I recommend you do that right after you get your CRM.