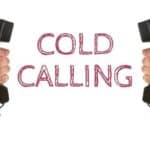 Nine years ago, it took 3.68 attempts on average to reach a prospect through cold calls. Today, it takes almost double that (8 calls). It just keeps getting harder, which raises a key question – "Is cold calling still effective?" At the moment, it is still very much alive and an important sales technique for high growth companies. But it's still hard for those new to marketing and sales. The lack of experience in outbound sales, coupled with fear of rejection, turns into a self-fulfilling cycle of failure.
In an exclusive interview on cold calling given to Lucep, cold calling guru Art Sobczak (Bestselling author of Smart Calling) explained that you may not necessarily get a Yes from the prospect, but you can get a win on every call, which is something you can at least attempt every time. He calls it Smart Calling. Get the book – It's among the best books on cold calling you will find on Amazon.
Now read these tips from experts on how to increase outbound sales with efficient cold calling. These are sales experts and successful business leaders who have built efficient outbound sales processes for their organizations with cold calling as an integral part of it.
1. Preparation makes cold calling go warm.
The more you know about a person the better you can connect and have a more meaningful conversation. It's a lot harder to make a cold call to a completely unknown prospect, especially if it's a complex B2B sale. To prepare for the call, you should seek answers to these questions: What is the purpose of your call? Who are you trying to call? Have you rehearsed?
2. Your cold calling pitch. To script or not to script?
In reality, there are just 8 to 10 common questions that most every prospect will ask about when you make the call. Come up with standard answers to this set of questions, based on your experience of what works best for your company's outbound sales process. The idea is that your response to these questions should be almost automatic, ensuring that you don't make mistakes or come across as uninformed. It's explained very nicely below by Geoffrey James, author and professional speaker
3. How to get a yes with every cold call.
Art Sobczak told us in the interview that even if you don't get a win on every call, what's important is to look at every contact as an accomplishment, instead of the morale-killing "rejection" that so many associate with prospecting. Other sales experts say the same thing – that you shouldn't take this rejection personally, and you need to find a way to extract some benefit out of every call.
4. Keep calling. It's a numbers game.
At the very least, you should keep making calls while you learn. It's a hard thing to do, but you will get some success eventually. That not only motivates you, but will also serve as a learning experience that teaches you what works for you, the product/service and company that you are trying to sell to prospects.
Your Turn Now: Share your thoughts in the comments.
• What do you think about cold calling? Do you like/hate making cold calls?
• Do you need help in increasing outbound or inbound sales? Let us know, and we'll get in touch with you.