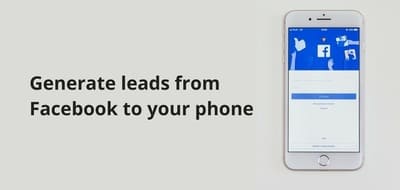 It's been our experience, in the past, that B2B lead generation on social media is best done on LinkedIn if you want to reach businesses who are your customers, and maybe on Twitter if you're trying to engage influencers who can expand your reach.
In fact, we're running a sponsored ad campaign on LinkedIn now to get Inmail lead gen forms filled by automotive dealerships interested in getting more sales.
In this article, I want to share with you some of the things we learnt while running a Facebook Lead Ads campaign that started generating a steady flow of hundreds of leads per week.
This channel is especially important for Lucep because we have an integration with Facebook through which you get an instant lead notification whenever anyone fills up a form.
How do I market a car for sale on Facebook?
This post here details the initial steps we took to market a car for sale on Facebook.
Go to Facebook for Business, create a new campaign, and choose lead generation as your objective. I'm going to skip the audience targeting here - we'll talk about it down below because that's the key to making your ad spend on Facebook produce some ROI.
Set your ad budget – we started with a token budget of $50 as a trial run, to see what happens. Select the Facebook business page and Instagram (optional) account associated with the ad, and choose the type of ad you want to create. There's already a standard form when you hit create new form, to which you can add fields as needed to collect more information and set filters to qualify the leads you get.
Audience targeting on Facebook Lead Ads
You have several options and lots of settings for audience targeting on Facebook Lead Ads. You can create a custom audience by location (city, country), age range, demographics, exclusions, job titles, interests expressed on Facebook, and more
The custom audience can also include an uploaded email list, so long as the people included have been engaged in some way by your Facebook business account. You can also provide a look-alike audience based on an uploaded email list that you have. Facebook will then show your ad to people matching this profile.
First, we didn't have that big a custom audience of automobile dealers who had connected with us on Facebook, so we started with just the look-alike email list of dealers. The first ad we ran had "Sales" and "car dealerships" as the interests. This meant that Facebook would only show to people who had expressed an interest in these topics. Additional filters for audience targeting included several countries as the location. Facebook showed the estimated daily leads to be around 4-26 people.
The result was no form fills through the few thousand people the ad reached. Then we removed "Sales" from the interest, and left it as only "car dealerships" and still no form fills. Then we reversed it to "Sales" and we got some 4-5 form fills, of which only one was a relevant lead from the CEO of an automobile dealership.
Facebook Lead Ads need tweaking
After four such versions and not much in the way of result, we ditched the look-alike audience entirely and focused only on the profile – demographics and interests.
Narrowed down the targeted audience to just one country, and the interest as only "Sales." A bit of tweaking to the demographics and interests to add managers and other such targeted personas suddenly raised the estimated leads by a huge amount.
Each new persona added to the audience dramatically increased the reach and estimated leads. When this campaign was activated, it immediately started generating leads by the dozen.
Within a few days, we had hundreds of leads that are being followed up offline by our sales team, and some have resulted in direct new signups online.
Increasing Conversion Rate from Facebook Lead Ads
The image we used in the ad was a Mercedes-Benz, and it looked so good that we got a lot of clicks from students and car lovers praising the image.
We then set the age group from 30-65 instead of 18-65. Suddenly, the hundreds of comments pouring in from car lovers stopped, and the audience got restricted to CEOs and senior executives in marketing and sales.
All told, we've spent around $800 on Facebook Lead Ads so far, with an ROI of about $1.02 per lead. It's been an excellent learning experience where we were able to test our value propositions and find out how to reach only our targeted audience our of over 2.23 billion Facebook users.
Based on the Facebook Lead Ads experience, we're now doing the same thing on LinkedIn sponsored Inmail, and through electronic mailer campaigns sent directly to targeted email lists.