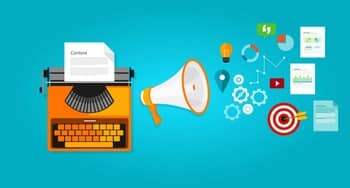 The importance of content creation and marketing cannot be overemphasized in terms of your online marketing and sales strategy.
The stats, from the Content Marketing Institute, speak for themselves:
• 200 million people now use ad blockers;
• 7.8 times more website traffic for content marketing leaders;
• Content marketing costs 62% less than outbound marketing, but generates three times the sales.
There are many more reasons, by the numbers, but these three alone are enough to get you started producing content, if you're not already doing so. So what kind of content will work? We have already published a study, based on Lucep client data, that explains the importance of creating engaging content that generates more leads. It also works better if it is targeted content that will be of interest to your ideal customers. How do you go about creating targeted and engaging content?
STEP 1 – Create a Detailed Buyer's Persona
Let me explain how Lucep, as an instant response SaaS callback tool, created a set of buyer personas. A buyer persona is created around the pain points of your target audience. So we did interviews and surveys to understand and identify what pain points our target audience has and how Lucep addresses these pain points. Here's one such set:
Once all these pain points are collected, a keyword matrix is created from it with the help of keyword research tools like the Google Adwords Keyword planner and SEOProfiler. The keyword matrix, which is now your online marketing funnel, contains a list of relevant keywords and content titles (blog posts) which are of interest to Lucep's audience and thus have the potential to drive targeted traffic to the website.
Let's just consider three keywords from the funnel – customer acquisition cost, increase online conversion, and best lead conversion tool.
If you look at the above keywords, you can see that they fall into 3 distinct part of the funnel, and can be used to plot a buyer's journey.
• Customer acquisition cost (Awareness stage)
• Increase online conversion(Consideration stage)
• Best lead conversion tool (Decision stage)
a) Awareness Stage
For Lucep, customer acquisition cost is a high value keyword in the awareness stage. The main focus of creating content around it is to educate Lucep's target audience. At the top of the funnel, the probability that target customers end up signing up for your service is low. The keyword clearly reflects that the user is interested in knowing more about costs related to customer acquisition. So Lucep creates this article – Calculate and reduce costs of digital marketing and customer acquisition.
The search volume for this keyword is 1,900, and it will attract more traffic if the content you create offers interesting facts and stats, and some surprising and counterintuitive data. It will get more shares and reach a larger set of your target audience.
b) Consideration Stage
In the consideration stage, you list out what benefits your target audience will get by using the Lucep website callback widget and mobile app.
So when Lucep writes article for the consideration stage, we list out what benefits our target audience gets rather than listing features. If you are searching for "increase online conversion," Lucep attracts you with a list of sales acceleration tools that will increase conversions. One of these tools will be Lucep.
c) Decision Stage
The main focus here must be to reinforce the benefits you provide, hammering home the point that Lucep is the 'best lead conversion tool' to help you increase sales. Decision stage articles must be backed by hard data, supporting facts, statistics, case studies and client testimonials.
For example, Lucep can help you convert your website visitors into prospects in 5 minutes flat. Instant response to website visitors using the Lucep callback solution can increase lead conversion by up to 72%. (Interested? Try lucep now.)
In any case, I hope this article has helped you understand what kind of content you should produce, and how to make it work to increase sales.
For further reading please see the posts below
Calculate and Reduce Costs of Digital Marketing and Customer Acquisition