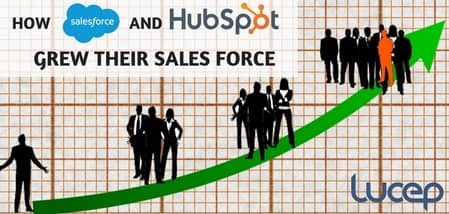 The difference between your sales force and other employees is that others are hired to keep up with growth, while your sales force is the one that provides that growth. That frees CEOs and sales managers from worrying about how big your sales organization should be. But there are established best practices about how to grow your sales force that need to be followed.
Let's take a look at the inspiring success stories of Hubspot and Salesforce that have taken these sales organizations from startups to industry leaders with thousands of employees.
Salesforce.com's sales force growth through predictable lead generation
San Francisco, CA-based Salesforce (NYSE: CRM) was founded in 1999 by Marc Benioff and Parker Harris. The company now has over 26,200 employees and generated $8.39 billion in revenue this fiscal year.
The biggest impediment to sales force growth is predictable revenue, and the growth of Salesforce.com from 0 to $100 million is the best example of how to keep a steady flow of qualified leads flowing into your sales pipeline to keep pace with an increasingly bigger sales team.
Aaron Ross, former Director of Corporate Sales, Salesforce.com, set up the Cold Calling 2.0 outbound process that enabled BDRs to send out mails to prospects, get a response and a referral, and generate a reliable flow of qualified leads by the end of the day.
The Salesforce.com website now generates a flow of inbound leads that ensures predictable revenue. According to data provided to Lucep by Salesforce executives for a market research study, their website leads are generated from a 1-800 number, an instant response tool to respond to customers while they're on the site, and a website contact form that feeds data directly into their own CRM.
The leads are scored and followed up by SDRs based on a propensity to buy list that is accurately able to predict which leads are likely to become Salesforce.com customers. The entire process is geared towards qualifying leads through touches to get them ready to agree to meet an AE for a demo.
They have a clear idea of how long it takes to get a lead from the first contact to the demo, and how leads they have at each stage in the sales funnel. This is how you generate predictable revenue and sales force growth, whether it's through outbound, inbound or both.
Hubspot's scalable growth as a science
Cambridge, MA-based Hubspot, Inc. (NYSE: HUBS) was founded by Brian Halligan and Dharmesh Shah in 2006. According to their Owler profile, the company now has nearly 1,600 employees and revenue exceeding $306 million.
The sales scientist who managed their growth from 0 to the first $100 million was Mark Roberge, author of the Sales Acceleration Formula. His plan was based on four pillars, one of which (about sales hiring) is discussed in this post about the role of HR in sales.
In this post, I want to highlight the remaining two points – how to provide your sales people with the exact same quality and required number of leads each month, and ensure that they follow the exact same sales process every time.
To address the latter issue, what Hubspot did was to introduce immersion training for new sales hires, where they actually make use of all the Hubspot products and solutions they're going to sell. This means everything from creating a website, landing pages and social media accounts to setting up a CRM platform, managing leads and sending out mailers
By the time they're through with the training, they are not only familiar with how customers should use Hubspot solutions, but also the problems and common issues that need to be addressed which you don't find in the manuals and help section.
As for providing your sales team with the number of leads and lead quality needed, Hubspot's solution was to align Marketing with Sales in a way that made the Marketing people just as equally responsible for total lead value as Sales. It ensures that both your BDRs and sales executives are working towards the same clearly defined number as a goal.