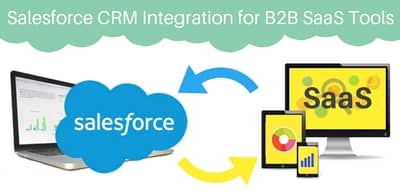 Lucep is currently in the process of setting up standard integrations and plugins with all the major CRM platforms and other sales tools. That's one of the reasons you've been reading a lot about CRMs and integration on this blog. Today, I want to share with you some data we have about the importance of offering Salesforce integration to customers, if you happen to be a B2B SaaS tool provider.
Salesforce CRM integration is key for both product and brand discovery: Salesforce is the leading CRM in the market and it is widely acknowledged as the industry thought leader in customer relationship management.
A study of the B2B and SaaS markets, prepared for us by the IBD team at the Haas School of Business, UC Berkeley, has survey results that show exactly how important Salesforce is for other SaaS sales tools.
The IBD researchers note that Salesforce was the most frequently referenced CRM in their qualitative interviews, and a full 62.86% of survey respondents said that Salesforce was the CRM their company used.
However, even for companies that do not use Salesforce, the company provides app exchange marketplaces, content and sponsored networking events that make it a key avenue for new technology discovery for both users and non-users of its CRM.
The IBD team added that companies big and small look up to Salesforce mainly because of integration points.
Startups typically run a large ecosystem of SaaS solutions and Salesforce often becomes the "hub" of such networks. Even though partnering with Salesforce is advisable, the app store on Salesforce is a crowded market.
The research team interviewed several of our own clients, and one of the questions they asked was about what would be the trigger for them to adopt a SaaS product.
For example, Ta3s Managing Director Sumukha Rao said that his organization will switch to Salesforce to meet growth, and added that any SaaS product he opts for will need to be validated across countries and be fully integrated with Salesforce.
Sandeep Sangli, founder and CEO of EasterEgg, likewise noted that he will need SaaS products as his company expands to other cities. He says that having clarity into the sales pipeline and having control over information being exchanged between offices becomes more important. Sangli mentioned that this is the value that SaaS would bring to him. He will soon be paying for Salesforce to help his business scale.
Art Pazdan, Customer Success Director of 130-person SaaS company Moovweb, said that small businesses need to be wary because cost of various tools adds up and SMBs do not have large budgets. Pazdan added that integration and ease of setup are essential for a SaaS tool, and Salesforce is used by everyone; therefore, integration is key.
Companies in the U.S., even at the early stage of 10 employees, adopt many of the same technology software that the larger companies use. For example, Gitprime, a 10-person startup, spends $500 per month/person on tools, out of which $125/month/person is for Salesforce Enterprise.
So if you want all these companies and others who use Salesforce as their CRM platform to consider your B2B SaaS tool, then get started on providing the required integration with Salesforce.