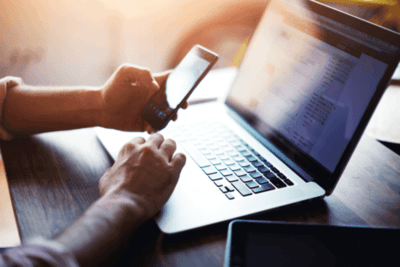 Allow me to ask you two simple questions, as a way to kickstart this discussion about how call back solutions can drive higher conversion rates. First, do you have a marketing budget for attracting visitors to your website? Second, do you have a marketing budget to convert those visitors who are already on your website?
The first answer will be a resounding yes, and the second one is likely be a resounding no. According to data from IBM Tealeaf, companies spend $92 on average to acquire traffic for every $1 spent on converting visitors already on their website. If you want to bring some balance to this lopsided spend that heavily favors traffic acquisition over conversion, try using a call back solution to increase your website's conversion rate.
The key advantage that call back solutions provide is fast response. When someone requests a callback and you do call back instantly, that makes a strong positive first impression. This infographic shows you the benefits of instant response.
If you need more evidence of the power of callback solutions, here's a few case studies on how instant response to leads using callback technology has actually helped these companies increase conversion rates.
Call Back Solution Case Studies
Evoma – Evoma's business is divided between business centers, banquets, and a hotel in Bangalore. Six salespeople across the three segments have been using the Lucep app for over six months.
Evoma's Business Manager for Hotel and Business Center services told a team of UC Berkeley researchers called by Lucep that they realized that lead response management was an issue due to calls getting routed through various channels and consequently lost in the process.
Use of the Lucep app has enabled them to respond to customers within 5-10 minutes, and this has resulted in a 25% increase in total inbound leads. Not to mention a drastic reduction in spam, and better visibility into website traffic and analytics.
Evoma stated that Lucep has definitely provided a benefit to their business and customers have been pleased with the fast response times.
TA3S – TA3S is a bootstrapped forty person company that provides testing automation services to global enterprise clients. The team of researchers sent by Lucep to collect feedback from customers talked to Sumukha Rao, the company's managing director.
He explained to the IBD team from the Haas School of Business, UC Berkeley that Lucep just hits the tip of the iceberg in the sales funnel for him. He likes that it gives him access to more information than just people who called and left a message in the past. He has also experienced positive reactions to quick callbacks from leads. He did feel that fast response has an indirect advantage – establishing your brand as being responsive to customers.
(Want to find out what advantages a callback solution can provide for your business? Try Lucep now. Talk to your customers. Get more sales.)
You may find some of these articles interesting for further reading
Difference Between Call Back Tools and Live Chat?