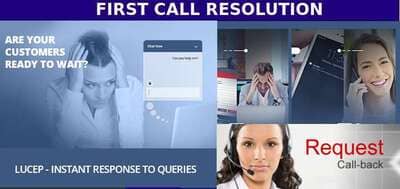 As an omnichannel marketing automation platform that generates revenue for our clients by improving their customer experience, Lucep has to provide reports that track metrics such as first call resolution.
FCR is an especially important metric for us, because the key differentiator of the Lucep callback widget and app is instant response to sales leads and customer queries.
"Your customers are looking for you. Click to call them back in under 60 seconds." - www.lucep.com
In this post, you'll see our first call resolution best practices. Let's start with what is FCR, how to measure it, and how to improve your FCR rate and associated metrics such as average talk time and handle time.
What is First Call Resolution?
This is a term often used in the context of contact center performance, to measure the effectiveness of inbound calls answered.
If the purpose of the call is properly addressed and the matter resolved in the first call itself, then there's no need for the customer to call again.
The cost per call, and the impact on the cost of customer acquisition (CAC) and retention, make it important for a business to have more first call resolutions.
Consider the simple issue of an inbound sales lead, which typically takes 6-8 followups to close. If more leads are closed in the first incoming call itself, the CAC comes down drastically, the length of the sales cycle is reduced sharply, and the lead-to-sales conversion rate goes up.
How to measure FCR – FCRR, Talk Time and AHT.
The key metrics that you need to track, to get a handle on the effectiveness of calls received, are the FCR rate (FCRR), average talk time (ATT), and average handle time (AHT).
Average talk time – ATT is the amount of time spent, on average, by a member of your team talking to callers.
Average handle time – AHT is the total amount of time spent per call, on average, including the talk time and any holds in between and other actions taken that are part of the process of calling.
The idea is to reduce AHT and ATT while increasing FCRR. How to do this? You can significantly reduce call costs and durations while improving FCRR if you follow the FCR best practices listed below.
Top 6 first call resolution best practices.
1. Instant response.
Our own data, based on millions of leads pushed to B2B firms, shows that 60% of customers give their business to the firm that responds first.
We've also written a lot about instant lead response on this blog before, including statistics from a lead management study conducted by Prof. James D. Oldroyd and published in the Harvard Business Review.
The study shows that you have seven times more chance of qualifying a lead if you respond within five minutes, as opposed to an hour or more. The chances of you qualifying a lead is 60 times more likely than another business that responds after 24 hours or more.
We believe instant response is by far the best way to improve your first call resolution rate. Call prospects instantly, while they're in the frame of mood to buy. Talk to them and provide a solution to their need, clarify their doubts, and close the deal instantly, before they even think about contacting other providers to compare offerings.
Want to see it in action? Click here for a live demo of our instant response form. Enter your name and number into the form, and we'll call you back instantly.
2. Omnichannel first contact vs first call resolution.
Omnichannel marketing is an ongoing conversation from the first touchpoint through to the last one that leads to a sale, regardless of which channel any of the touchpoints is on. So in this case, you have first contact resolution as a metric to start with. After that, if the query is still unresolved, it may lead up to an FCR.
For instance, a live chatbot or IVR interaction may end with a customer asking to speak with a human customer rep. In such cases, you won't get that first contact resolution, but it could be possible to get a first call resolution.
One way to reconcile this first contact and first call into a single metric is with our web to phone plugins. Lucep has developed plugins for a variety of most common channels (website contact, web forms, emails, Facebook, etc.).
Any contact on any of these channels is immediately transferred to your phone, enabling an instant response and the opportunity for a first contact and call resolution at the same time.
3. Standardize response using FAQ and call scripts.
Now you are getting instant notifications of queries from all channels, and can respond instantly to it on the phone. In order to improve the FCR on the phone for queries raised across all channels, you need a sales playbook or a standard set of responses to commonly asked questions.
Create call scripts and an FAQ that your CSRs can refer to, and test and improve these standard responses until they are capable of closing an issue to the customer's satisfaction in the first call itself.
You will need a CRO platform for continuous improvement in your FCR, Net Promoter Score (NPS) and other customer experience metrics. We already have a list of top CRO tools that you can use for A/B testing and creating a knowledgebase of best practices and successful techniques.
4. SLA breach alerts.
A sales team manager or CXO has to stay on top of the data flowing in, but you only step in if there's something that doesn't meet the required standards.
The term you're looking for is a service level agreement (SLA) that you guarantee to your customers. This is where you need SLA breach alerts in real-time, so that you can step in and fix the issue instantly to convert an unhappy buyer into a satisfied customer.
For example, you can set SLA breach alerts to be raised to the responsible managers if there's someone who's been waiting on hold for over 2 minutes, or if a customer's call exceeds a set amount of time.
Getting a notification to take a call that's been on hold, or stepping into the call if it's exceeding a set time without any resolution, allows you to resolve an issue that your team is seemingly unable to handle in the first call.
5. Gamification and incentives for top performers.
Lucep's callback platform generates the reports needed to track individual performance of each member.
This feature, and the data generated, can also be used for gamification. Track and reward your top performers for consistently meeting and exceeding the required first call resolution rates.
These rewards for top performers will motivate and incentivize the rest of your team to improve their own performance.