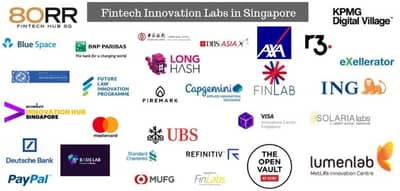 One of the highlights of the Singapore Fintech Festival is the Innovation Lab Crawl (Nov 15-16), where fintech innovation labs in Singapore will open up their doors for visitors. It's a great opportunity to get to know the fintech startup ecosystem in Singapore, and network with startups and the key executives of some of the largest financial services companies in the world.
The list below includes the top fintech innovation labs in Singapore, which are participating in this year's Innovation Lab Crawl.
1. AXA Digital Hive
AXA Digital Hive is a place where the company showcases its digital capabilities. The hub facilitates the sharing of ideas within AXA as well as externally with partners and stakeholders. AXA will also be showcasing AXA Data and Technology Innovation (DTI) for visitors.
Name: AXA Digital Hive
Address: AXA Digital Hive, 8 Shenton Way #24-01 AXA Tower Singapore 068811
Phone: +6568804888
Website: https://www.axa.com.sg/FinTechFestival
2. Accenture Innovation Hub
The Accenture Innovation Hub is a 16,000 square foot facility where you can immerse yourself in practical use cases of emerging technologies, and see how ideas are transformed into innovative solutions based on design thinking.
Visit the Accenture Innovation Hub to find out how they "Lead in the New."
Name: Accenture Innovation Hub
Address: Accenture Innovation Hub Singapore, 38 South Beach Road, #03-00 Singapore 189767
Phone: +1 (312) 842-5012
Website: accenture.com
3. Capgemini Applied Innovation Exchange
Capgemini drives corporate reinvention at the Applied Innovation exchange (AIE) by identifying new opportunities and technologies.
Visitors can be part of a fireside chat with guest speaker Andrea Hajdu-Howe, a partner at venture capital firm Antler. Andrea comes with 20 years of experience in financial services.
Name: Capgemini Applied Innovation Exchange
Address: 6 Battery Road, #12-02/03 Singapore 049909
Phone: +65 6224 6620
Website: capgemini.com
4. IAG Firemark Lab
At IAG's Firemark Lab, they identify gaps and problems in the insurance and adjacent markets in order to build AI and data-based solutions to solve these challenges.
Visitors will get a welcome and intro from Allison Howells, Director, Data and Analytics, Firemark Labs Singapore, IAG. An Innovation Showcase will show you how Firemark Labs enables businesses and consumers, followed by demos of innovation still in development by Ronald Arnold, Executive General Manager, Venturing, IAG.
Name: IAG Firemark lab
Address: Level 16, 111 Somerset Road, Singapore
Phone: +6564999125
Website: https://www.firemarklabs.com.sg/
5. Solaria Labs
Solaria Labs was established by Liberty Mutual Insurance to build and test customer-centric experimental products that could be disruptive new innovations.
Visitors can seedemos of the various products that have been built by Solaria in their labs in Boston and Singapore. They will also share their unique approach of coming up with new ideas using a blend of Design Thinking, Lean Startup, and Agile. Find out how this approach can be applied to solve some of the challenges we see in Fintech today.
Fintech startups invited to Solaria Labs will pitch their solutions and their approach for solving customer pain-points.
Name: Solaria Labs
Address: 100 Amoy Street 069920
Phone: +6562222200
Website: https://www.solarialabs.com/
6. 80RR Fintech Hub
80RR was established as a joint effort by the Monetary Authority of Singapore (MAS), the Singapore Fintech Association (SFA), and Hong Leong Holdings Ltd. With an intent to support and grow the fintech industry in Singapore.
Their Experts-in-Residence (EIRs) can help you learn how to scale up and accelerate growth. Network with startups and 80RR members, and find out which way the fintech industry is headed.
Name: 80RR Fintech Hub
Address: 80 Robinson Road, Singapore 068898
Phone: +6569313080
Website: https://www.80rrfintech.com/
7. KPMG Digital Village
KPMG Digital Village is a collaborative innovation ecosystem consisting of corporates, investors, start-ups, educational institutes and experienced mentors from KPMG and industry alliances. It aims to match the needs of corporates and investors with the supply of innovation from the likes of start-ups and research and development (R&D) houses.
Name: KPMG Digital Village
Address: KPMG Clubhouse, 36 Robinson Road, Ground Floor, Singapore 068877
Phone: +6564118077
Website: https://digitalvillage.asia/
8. Bank of China Innovation Lab
BOC Innovation Lab is the first such lab launched by Bank of China. Experience the latest technologies and innovations from Bank of China, including an innovation video on an 8-metre sliding screen, a VR/AR Banking Experience, chat with Candy – the bank's new "Service Manager," and display of achievements on AI, Blockchain, Cloud, Big Data, etc.
Name: Bank of China Innovation Lab
Address: Bank of China Building, 4 Battery Road L1 Exhibition Hall Singapore 049908
Phone: +6567795566
Website: http://www.bankofchina.com/sg/aboutus/ab2/
9. Synechron FinLabs
FinLabs is an innovation hub established by digital, business consulting and technology services provider Synechron, $500 million firm based in New York.
Visitors at FinLabs can immerse themselves into a simulation of the customer journey through a typical digital engagement scenario in order to understand the impact of beacons, drones, biometric authentication and virtual reality. You can also take a look at the prototyping happening around new technologies in insurtech such as AI data science, blockchain.
Name: Synechron FinLabs
Address: Synechron One Raffles Place, #21-03 Singapore 048616
Phone: +6563239266
Website: https://www.synechron.com/finlabs
10. ANZ BlueSpace
ANZ BlueSpace is an innovation lab in Singapore set up by ANZ to help accelerate innovation in Institutional Banking capability and facilitate collaboration with the financial technology or fintech ecosystem.
The sessions visitors can participate in are about digital innovation, artificial intelligence, and about banks and fintechs working together to add value to customers.
Name: ANZ BlueSpace
Address: ANZ BlueSpace 10 Collyer Quay #30-00 Singapore 049315
Phone: +6566818033
11. BAASIS Lab by Mbanq
BAASIS Lab is a startup accelerator launched by fintech-focused venture capital fund Life.SREDA, and powered by Banking-as-a-Service (BaaS) provider Mbanq.
Find out why fintech banking and BaaS is essential for the future of banking, and a presentation on Arival Bank – the world's first crypto-friendly digital fintech bank.
Name: BAASIS Lab by Mbanq
Address: 79 Ayer Rajah Crescent #05-08, Singapore 139955
Phone: +6592391785
Website: http://fintech-research.com/baasislab/
12. Visa Innovation Center
The 7,000-square-foot Visa Innovation Center in Singapore is an open and collaborative space where Visa and their partners discover, design and develop the future of commerce together.
Visitors can take a ride in the connected tuk tuk (auto rickshaw), see the impact of AI on daily life, and learn about the latest digital payment experiences around the world.
Name: VISA Innovation Center
Address: 71 Robinson Road, #08-01
Phone: +6566715800
Website: visa.com
13. BNP Paribas Design Factory
The Design Factory is a space converted into user-friendly basecamps to foster collaborative work and support the BIG (Breakthrough Innovation Group) teams.
The lab crawl at BNP Paribas Design Factory Asia will showcase projects from across the bank that leverage on technologies such as artificial intelligence, virtual reality and machine learning.
Name: BNP Paribas Design Factory
Address: 10 Collyer Quay, #35-01 Ocean Financial Centre, Singapore 049315
Phone: +6562101288
Website: http://www.bnpparibas.com.sg/
14. Singapore Innovation Center
The Singapore Innovation Center, established by BNY Mellon, is an open, collaborative workspace where they collaborate with fintechs and clients to create evidence-based management solutions.
Name: Singapore Innovation Center
Address: BNY Mellon Singapore, Level 7, Millenia Tower, 1 Temasek Avenue
Phone: +6564320222
Website: bnymellon.com
15. DBS Asia X
DBS Asia X (DAX) is a space where the banking institution collaborates with startups and the broader fintech community to reimagine, inspire and create the future of innovation.
Visitors at DAX can attend a presentation on disruptive technologies in the e-commerce space, and another one on creating intelligent customer experiences with AI, machine learning, and data analytics.
Name: DBS Asia X
Address: DBS Asia X, Level 7, Sandcrawler Building, 1 Fusionopolis View, #07-03, Singapore 138577
Phone: +6562222200
Website: dbs.com
16. Deutsche Bank Innovation Labs
Deutsche Bank Innovation Labs provide an environment where technologies, concepts and ideas can be tested rigorously and rapidly, against real-world requirements.
Name: Deutsche Bank Innovation Labs
Address: Deutsche Bank Asia Pacific Head Office, One Raffles Quay, South Tower, Level 17, Singapore 048583
Phone: +6564238001
Website: http://labs.db.com/
17. ING Labs
ING Labs looks for new opportunities to solve fundamentals problems and client needs in a number of areas. The focus at ING Labs in Singapore is on tradetech, where advances such as IoT and distributed ledger technologies (Blockchain) are enabling greater efficiency within the supply chain and disrupting trading and trade financing.
Visit their Singapore lab to find out more.
Name: ING Labs
Address: Collective Works, Capital Tower #12 168 Robinson Road Singapore, 068912
Phone: +6563407200
Website: https://www.ing.com/About-us/ING-Labs.htm
18. The FinLab
The FinLab, a joint venture between UOB and SGInnovate, is a business accelerator that propels the growth of technology companies and catalyses the digital transformation of businesses.
They will showcase some innovative technologies for visitors, both in FinTech and in other deep tech areas. Visitors will also learn how The FinLab itself looks to bring its unique innovation programme to SMEs and startups all across ASEAN.
Name: The FinLab
Address: The Bridge @ Kent Ridge 2 Science Park Drive Singapore 118222
Phone: +6562222121 (UOB)
Website: http://thefinlab.com/
19. Mastercard Labs
Since its inception in 2012, Mastercard Labs in Singapore has formed deep relationships with over 150 Fintech startups to solve the biggest industry challenges and scale the solutions.
They are a team of technologists, designers, challengers, go-getters who work collaboratively with subject matter experts globally to dream up and execute next generation innovations in commerce.
Visitors can learn how Mastercard collaborates with fintechs, and find out about the "Future of Everything" (commerce, banking, devices, security, acceptance, etc.).
Name: Mastercard Labs
Address: Mastercard Office, Level 16 DUO Tower, Singapore 189352
Phone: +6565332888
Website: https://www.mastercard.us/
20. Lumenlab
Lumenlab is MetLife Asia's innovation center. They apply a structured, and methodical process to incubating ideas, and developing new businesses that can scale. Lumenlab works with fintech and insurtech innovators such as Lucep, to further develop and customize solutions that have the potential to disrupt the insurance sector.
Name: LumenLab
Address: MetLife Innovation Center #20-05, 9 North Buona Vista Drive Singapore 138588
Phone: +6567158800
Website: http://www.lumenlab.sg/
21. MUFG Bank
Visit MUFG Bank (Mitsubishi UFJ Financial Group) in Singapore at LEVEL3 coworking space in Unilever's Mapletree Business City. Visitors can experience MUFG Bank and partner innovations being showcased.
You will also learn about the MUFG Bank Digital ASEAN Program, including new initiatives focused on empowering the unbanked, under-banked, and other financially disadvantaged communities in Southeast Asia.
Name: MUFG Bank
Address: Mapletree Business City, 20 Pasir Panjang Road East Wing, #03-22/24 Singapore 117439
Phone: +6565383388
Website: http://www.mufg.jp/english
22. The Open Vault
The Open Vault at OCBC (TOV) focuses on collaborating with finTech firms to rapidly test and validate new ideas and solutions before bringing winning prototypes quickly to the market.
Visitors will be able to experience a line-up of innovative AI initiatives by OCBC, and how they will benefit customers. Meet and chat with data scientists from the AI lab, and gain insights from industry leaders on AI trends.
Name: The Open Vault
Address: The Open Vault at OCBC, 53 New Bridge Road #01-00 Singapore 059402
Phone: +6563633333
Website: http://theopenvaultatocbc.com/
23. PayPal Innovation Lab
Located within PayPal's Singapore Technology Center, PayPal Incubator endeavours to nurture and support the creation of a new generation of technology companies with access to FinTech domain experts, a network of investors, mentoring and guidance by business leaders.
Visitors will get a welcome introduction from Jerry Tso, Head of Singapore Development Center, PayPal SG. See the PayPal Innovation Showcase, and a presentation on how Paypal innovates by Mike Todasco, Director of Innovation Lab, PayPal San Jose.
Name: PayPal
Address: Suntec City Tower 5, Level 7, Singapore 038985
Phone: +6565104650
Website: https://www.paypal-innovationlab.com/
24. R3
R3 builds blockchain technology, and works with a global network of partners to develop innovative finance and commerce apps for R3's blockchain platform Corda.
In support of the Singapore FinTech Festival's Lab Crawl, R3 will hold a fireside chat on "Uncovering the Importance of Blockchain in Digital Cash and Trade."
Name: R3
Address: WeWork Beach Centre, 15 Beach Rd, Singapore 189677
Phone: +6562211245
Website: https://www.r3.com/
25. Refinintiv Labs

In these labs, Refinintiv applies data science, data visualisation and advanced user experience to co-create collaborative experiments and proofs-of-concept with partners and FinTech startups.

Name: Refinintiv Labs

Address: One Raffles Quay, North Tower, #28-01, Singapore 048580

Phone: +6564035555

Website: https://www.refinitiv.com/
26. Future Law Innovation Programme (FLIP)
The Future Law Innovation Programme (FLIP) is a legal innovation lab, an initiative by SAL Ventures Ltd.
FLIP aims to drive innovation and encourage the adoption and invention of new technology amongst law firms, legal departments and legal tech startups. Visitors can learn about topics relevant to the intersection of law and finance such as blockchain and distributed ledger technology, cybersecurity, and regtech.
Name: Future Law Innovation Programme (FLIP)
Address: The FLIP Innovation Lab @ Collision 8, 1 North Bridge Road, #08-08 High Street Centre, Singapore 179094
Phone: +6565506354
Website: http://www.flip.org.sg/
27. UBS EVOLVE – Center for Design Thinking and Innovation
The Centre for Design Thinking & Innovation is the strategic next step in UBS' digitalization journey. Located at the UBS Business University, the center is focused on creating new innovative and user-centric products to meet the evolving needs of their Wealth Management clients in Asia Pacific and globally.
Name: UBS EVOLVE – Center for Design Thinking and Innovation
Address: Former Command House, 17 Kheam Hock Road, Singapore 298791
Phone: +6564958000
28. StanChart eXellerator Lab
The Standard Chartered eXellerator Lab is part of SC Ventures, a business unit created to promote innovation, invest in disruptive financial technology and explore alternative business models. The Lab aims to "rewire the DNA in banking."
Visitors can discoverthe following eXellerator Lab zones – Beyond technology – designing new business models; Partnering and investing in fintech ecosystem; Elevating client focus; and Workforce of the future.
Name: eXellerator Lab
Address: 8 Marina Boulevard, Marina Bay Financial Centre Tower 1, Level 17
Phone: +6567477000
Website: https://www.sc.com/
29. LongHash
LongHash is a global blockchain accelerator with a mission to accelerate the development and understanding of blockchain technology.
Visitors can learnmore about blockchain technology and meet companies at the forefront of the industry. Meet projects who are using blockchain technology to solve real-world problems, and mingle with blockchain investors.
Name: LongHash
Address: The Arena, #01-03, 2 Science Park Drive, Singapore 118222
Phone: +6567477000
Website: https://www.longhash.com/
30. HSBC Singapore Innovation Lab
HSBC Singapore Innovation Lab is a key incubator for HSBC's world-wide innovation program, focusing on driving and developing the next generation digital and mobile banking needs of corporates, including cash management, liquidity, trade and supply chain.
Name: HSBC Singapore Innovation Lab
Address: 21 Collyer Quay, HSBC Building, Level 2 Innovation Lab, Singapore 049320
Phone: +6566582900
Website: https://www.hsbc.com/