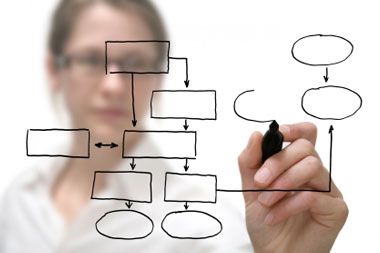 Lucep has already shared tips from sales experts on creating the right sales process for your organization. Now let's look ahead at what sales tips the experts have to help you manage your process.
Targeted Lists and Personalization
The first step in generating targeted lists of leads is to come up with buyer personas to identify who is your target customer. Having a deep understanding of your buyer persona is a critical prospecting technique that drives content creation, sales follow up, product development, and just about everything that relates to your sales process and management.
Start following up with them through personalized messaging, by connecting with customers and offering solutions to their needs as they go through the buying cycle.
Fast Response to Your leads
A B2B SaaS sales market study report was recently created for Lucep by a team of researchers from the IBD program at UC Berkeley. They were looking at the benefits of instant response to website leads, and found out that you can not only get more leads and sales through fast response, but also shorten the sales cycle and put yourself on the shortlist of providers under consideration.
But a lot of companies still don't do it. They go to great lengths to get prospects into the pipeline, but then a lot of leads will just sit there because it's hard to get to all your leads in time.
Lucep, an instant response call back tool, makes it easy to connect website leads to your sales team members in less than 60 seconds. Get Lucep today (it's free for single users) to find out how instant response increases sales
According to a landmark 'Lead Response Management Study' by Dr James Oldroyd, published by both Insidesales.com and Harvard Business Review (HBR), the odds of contacting your lead is 100 times higher if you do it within the first 5 minutes
Keep Your Sales funnel Filled With Leads
Trying to keep the sales funnel full could very easily relate to anything that helps you increase sales. However, if you break it down into the two main categories (Inbound and Outbound), it would help you in tracking and segmenting what you have done till date.
For example: Networking, which proves to be one of the most cost-effective and efficient ways to generate new business, is a great outbound tool to attract referrals. Similarly, finding out what content you should be producing to attract your potential buyers could be a great inbound tool to keep the funnel full through website leads.
Use CRM to Retain Customers
Customer retention was cited as the biggest revenue driver in response to a KPMG report that asked, "Which of the following do you believe will be the most significant drivers of your company's revenue growth in the next 1-3 years?"
CRM is a critically important tool for customer marketing, which is where you increase sales by selling to your own customers. That also means you are enhancing customer retention. However, CRM does not manage customer retention by itself. It will provide you with the tools to help you manage the activities around customer engagement.
You still need to do record every interaction and outcome of these interactions with your clients into your CRM and make sure it is always up-to-date.
Measure Sales Success with a Complete Picture
There are two ways of going about this. One is goal-oriented selling focused on pre-determined milestones, starting with the initial meeting and ending when the sales closes. The second is process-oriented selling focused on completion of activities that must be performed in order to move leads forward in the sales cycle.
Measuring the sales process as a whole is the only way to fully control and predict sales. Sustained growth will also add value to all the above mentioned points which other experts have advised on.