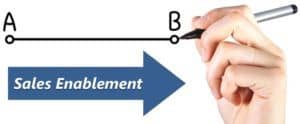 A CRM can only do so much on its own. In order to be truly useful, it has to be a seamless interface between your marketing and sales processes. For this to happen, there has to be a proper alignment between marketing and sales, and both teams have to sign on to SLAs and agree on definitions of marketing-qualified leads and sales – qualified leads.
Before you get started with sales enablement, you will also need some kind of marketing automation to fill up the CRM in the first place. Let's assume for a moment that we have done all this groundwork, and you have a steady pipeline of qualified leads waiting to be distributed to your sales team.
This is where you need to start thinking about enabling sales beyond CRMs, to give your sales reps the right leads, the content and training needed, and the ability to reach more leads and close the deal.
Lead Scoring
So after generating a steady pipeline of qualified leads waiting to be distributed to your sales team, you need to create a scoring system that will help you prioritize the leads and let you focus on the most important ones first, resulting in faster lead conversion.
Lead scoring tools such as calliduscloud make use of powerful scoring systems based on different types of visitor activities and demographics. You even get email alerts that tell you when a lead has crossed a threshold scoring level, so your sales team can quickly reach out to that prospect.
There are CRMs that come with an in-built lead scoring feature, and there are lead scoring systems that can be integrated with CRMs. It just proves that if a CRM is integrated with marketing automation and/or sales enablement features, it turns into a more powerful sales tool.
Lead Distribution
Whenever a lead comes in from the website, especially in the case of someone requesting a call back, the generated lead needs to be instantly handled by your team in order to qualify the lead or even close it quickly.
By looking at the closure rates and availability of the sales reps, sales tools can distribute the leads to the most promising sales person available on the floor. Lucep helps your business to do this, to send the lead to who can handle at that moment, so that it can be qualified faster and have an increased probability of conversion.
Apart from diverting calls, some tools even provide extra information on the leads to the respective sales reps. With the the help of lead data-filled popups sourced from website behavior tracking, your sales rep has access to the most powerful and useful data that is needed to close any type of lead – the buyer's needs.
Dedicated sales enablement for drip campaigns
Hubspot Sales is a great option when you want to uncover new leads via email and end up with more meetings instead of sitting on the lead till it has gone cold.
On its own, this tool is basically a set of productivity tools for your inbox. You can automate the process of sending out personalized prospecting emails, see the number of open emails and attachments, create your own personalized email templates and measure their performance with ease. However, if you integrate it with your CRM, you can automate all your sales activities and end up with way deeper insights into activity tracking.
Every lead and interaction is tracked automatically on a timeline and logged into the rest of the lead data with the help of a CRM, and then all you need to do is engage them and address their pain points, and you have a lead who is primed and ready to become a paying customer.
The sum of it is that entering leads into your CRM and handing them over to your sales reps is not the optimal process that will generate more sales. You start with a CRM, but it needs be coupled with marketing automation and sales enablement on either side. Align all three in a row, and do the integration required to maximize lead generation and conversion rate optimization.