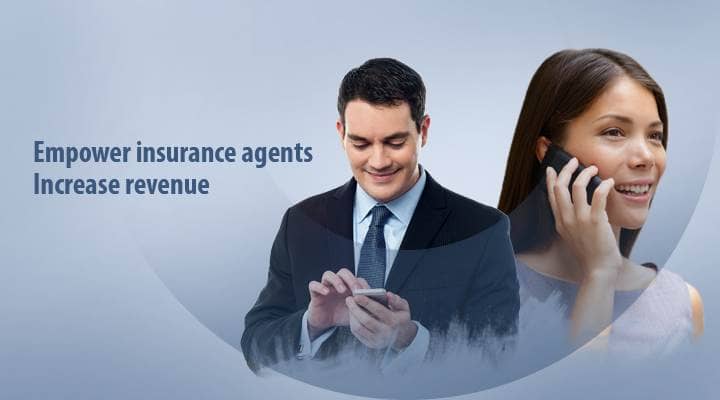 At its core, insurance sales is not about pushing a particular product, but rather providing trusted advice. Today 80% of insurance customers touch a digital channel in their buying journey. Yet for complex products such as life insurance, they prefer to buy from an agent.
It is more important than ever to provide a seamless digital and in-person customer experience, and connect leads quickly with the agent that understands them best. Your lead distribution system has to empower insurance agents with as much information as possible about a customer, so they can have a meaningful conversation about insurance needs.
Insurance engagement as a 360-degree brand experience
1. Deliver a seamless digital and in-person customer experience.
Here are some stats we've found that highlight what you have to do:
67% of consumers and 91% of businesses feel customer service online and via mobile devices needs to be faster and more intuitive. (Verint Tipping Point Study)
60% feel like their voices are heard when they speak to a live person. (Calabrio study)
Focus on speed of response, reducing friction for the customer to speak to someone, and controlling the brand experience across channels will go a long way in delivering a seamless customer experience.
2. Connect customers to the right agent.
Our technology can route leads to agents based on factors such as location, but also affinity groups (eg. age, language groups, etc). This way customers connect with agents who are able to understand their needs.
3. Empowering insurance agents with as much information as possible.
Our users have been able to increase lead generation through channels such as corporate websites by as much as 40%, and increase online conversion rates by 50%.
This at an enterprise scale (we work with Metlife, Citibank, Banamex, Starwood Hotels, Mercedes-Benz and more than 1,200 other businesses.) where even a small change in lead generation and conversion rates results in a large increase in revenue.
The increase in revenue is a result of meaningful customer engagement at the moment of intent, when a customer is on your website, or on your Facebook page or reading a mail sent by you.
Along with a phone number and name, your insurance agent gets lead analytics and behavioral insights such as the lead source and referring site, browsing behavior (pages visited), time on site, history of past interactions, customer demographics, device used, and other helpful data.
Instead of calling the customer and asking them what they want, the agent already knows who they are and what kind of insurance need they have. It is reassuring to the buyer to be able to talk to a person who knows their name and their need, and it builds trust – enables your agent to act as a trusted advisor.
How does it happen? I'm going to map the journeys of an insurance buyer through both multi-channel and omnichannel sales funnels. It should highlight how easy it becomes to sell insurance when you're able to have a conversation with a buyer, instead of a series of siloed interactions.
Stages of traditional insurance sales funnel
1. Leads from digital channels.
2. Digital response by expert advisor on same channel:
– Lead qualification questions;
– Link to website; and/or
– Phone number of call center.
3. Customer gets lead response by email, includes quote and purchase link.
4. Customer replies back or calls to clarify doubts and seek better options.
5. Connected to a local insurance agent.
6. Meets agent in-person for detailed explanation of products and options.
7. Based on discussion, customer gets new purchase link by email.
8. Customer goes back online using purchase link to buy insurance.
Stages of omnichannel insurance sales
1. Leads from digital channels.
2. Lead data, including phone no and service requested, collected at source and qualified by omnichannel system.
3. Lead distributed to right agent based on location, availability and expertise.
4. Agent responds back instantly on the phone, and is also on the same digital channel that customer is on.
5. After quick chat about options, customer gets purchase link on same channel, right there.
6. Customer buys insurance.
It's a first contact resolution system that is highly effective because of the automated qualification and instant response by your expert for the requested product, regardless of whether your customer is on your website, Facebook or email.
Even if the lead is not closed into a sale right away, the ongoing customer engagements will follow the same pattern of a product specialist responding instantly on the same channel the customer is on, armed with all the lead data and history of previous engagement.
Empowering insurance agents through personalized lead analytics
As a refinement of the existing lead flow in the insurance industry, Lucep has come up with a customer journey tracking system to send digital leads back to an agent who generated the lead.
This feature creates personalized links for relationship managers (RMs) and agents that can be shared via social media networks and messaging services such as Whatsapp, WeChat and Line.
Prospective customers that click on the link will be directed to a centrally controlled campaign landing page, however, the lead will only be sent to the RM or agent who shared the link.
So you have a 360-degree view of the insurance customer, right from the first contact on any digital channel, as they move from your website or social media to the phone, from the phone to an in-person meet with an RM or agent, and then back online to email, and on to the website for buying insurance.
At every stage, you have a complete view of all the previous engagements on different channels that have happened around this latest one. This view, made possible through customer journey tracking during the marketing and sales process, is what is helping insurance companies increase revenue from digital while still making use of the insurance agent network you have.
References:
1. https://www.mycustomer.com/service/channels/80-of-consumers-value-human-service-over-digital
2. https://www.callcentrehelper.com/study-finds-that-human-nature-drives-customer-loyalty-129186.htm