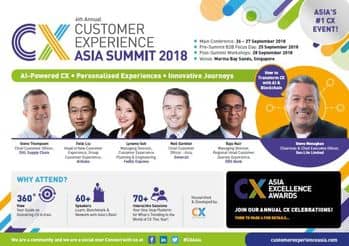 The 6th Customer Experience Asia Summit 2018 will be held at the Marina Bay Sands, Sands Expo and Convention Center, Singapore, from Sept 25-28, 2018.
Lucep is a co-sponsor of the Customer Experience Summit.
We're sponsoring this event, along with Microsoft, Twilio, Hitachi, Salesforce, VMWare and other companies, because this is Asia's No.1 CX event, with over 60 industry leaders on-stage sharing their CX strategies.
Last year, the Summit featured 86 speakers and more than 60 interactive sessions. Out of the 340 attendees, 74% were brand new organizations who walked away with valuable insights about the importance of the human aspect in all facets of people, process and technology investments.
Agenda for Customer Experience Summit
This year, the Customer Experience Summit agenda includes over 70 impactful discussions across 8 topical areas:
AI-powered CX;

Digital-enabled CX;

Channel experiences;

Customer journeys;

Customer and CX insights;

Customer advocacy;

Operational excellence in customer service; and

Service excellence and employee engagement.
The format for these discussions includes 12 interactive roundtables, 3 Master Classes, and a pre-event B2B CX Focus Day on Sept 25
CX Asia Summit Director Nadia Kim posits that the CX Summit is the "only event you will need to attend for inspiration on how you can maximise CX ROI and embed customer-centricity as an integral part of your organisation!"
Speakers and thought leaders at CX Summit
The key focus area of this year's CX Summit is the increasing use and applications of AI and omnichannel customer-centric strategies for digital enablement. Some of the highlights and interesting sessions from thought leaders in the CX space include:
Customer Engagement: A Multi-stakeholder approach towards Omnichannel CX and Digital Transformation – speakers for this session include:


• Karthikeyan Rajasekharan, Senior Director, Dynamics Business Group Asia Pacific, Microsoft Asia Pacific; and

• Tushar Parashar, Senior Sales Director, Hitachi Solutions Asia Pacific Pte. Ltd.

Roundtable discussions:

Creating a Seamless Omnichannel Experience – Wynthia Goh, Head of Omnichannel, NTUC;

AI-Powered CX: From Reactive to Anticipatory – Vinod Chandramouli Global Head, Pre Sales & Marketplace, Freshworks

The Future of CX: Reshaping Customer Engagement with AI to Revolutionize CX – Angie Bell, Head of Asia Pacific, Twilio

The New Frontier of Customer Experience: How to Transform CX with AI & Blockchain – Presentation by Steve Monaghan, Chairman and CEO, Gen.Life Limited

Conversational AI: Intelligent Chatbots to Transform Customer Interactions – Presentation by Cedric Dias, Head, Digital Social Media & Product, Marketing, OCBC Bank

The Power of Artificial Intelligence in Unlocking New Customer & Business Insights – Discussion with speakers including Celine Le Cotonnec, Chief Data Officer, AXA and Harpreet Singh Ghai, Director & Head of Consumer Relations, Asia, Middle East & Africa, GSK Consumer Healthcare.

Revolutionising Customer Experience with AI – Presentation by Nitin Chugh, Country Head, Digital Banking, HDFC Bank
Post-Summit CX workshops
Diane Magers, CEO of the Customer Experience Professionals Association (CXPA) will conduct two CX workshops post-summit, on Sept 28.
• Adopting Human-Centred Designs; and
• Building a Customer-Centric Organisation.
Dheemant Thacker, Head, Mobile Innovation, Social Media & AI, Banking, HDFC Bank, will hold a third workshop on making use of chatbots for customer engagement and interactions
Customer Experience Asia Excellence Awards
IQPC, the organizers of the Customer Experience Summit and the Customer Experience Asia Excellence Awards, received 148 entries from 65 companies vying for these awards across 12 categories.
The categories include best CX, brand experience, contact center, customer experience team, digital experience, omnichannel experience, employee engagement, social media strategy, use of mobile, CEM technology, CX vendor excellence and best CX personality.
The finalists for best CX Personality Award include:
Michelle Liew, RHB Bank Berhad;
Mary Felicia Sim, ION Orchard; and
Zatina Zakaria, Etiqa Insurance & Takaful.
The winner, in this and the aforementioned categories, will be announced during the Gala Dinner Awards at the Marina Bay Sands on Sept 26.
What: Customer Experience Asia Summmit 2018 (Registration: IQPC)
when: 25-28 September 2018
Where: Sands Expo and Convention Center, Marina Bay Sands, 10 Bayfront Ave, Singapore 018956