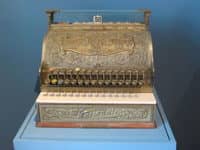 There's a huge amount of interest in the disruption caused by the need for branch transformation in the banking industry. Branches are closing down by the thousands, and banks are rushing to save them by making the branch a helpful touchpoint along the customer journey. But there's one element of physical and branch banking that isn't getting the same amount of global attention – the ATM.
ATM manufacturers, suppliers and integrators, to put it simply, are having a tough time surviving. Or, at least, would have been… if NCR hadn't accomplished a stunning transformation. The company went from being an ATM and kiosk manufacturing company into an omnichannel banking solution provider.
In this post, I simply want to share the history and timeline of NCR's customer-centric business transformation. This story is being used as a roadmap by the entire ATM sector and the rest of the financial technology providers to become fintechs offering banking solutions and software.
NCR Corporation profile
Atlanta, Georgia-based NCR Corporation (NYSE:NCR) is an omnichannel banking solutions provider that employs about 20,000 service professionals and does business in 180 countries. NCR's combination of hardware, software and services portfolio drives over 700 million transactions daily in the financial, retail, travel, and other sectors. Led by outgoing CEO Bill Nuti, NCR reported total revenue of over $6.51 billion for the last fiscal year.
History of NCR Corporation
NCR was founded in 1884 in Dayton, Ohio as the National Cash Register Company, which had the patent for the first mechanical cash register invented by James Ritty.
By 1911, it had sold over a million of these cash registers, and grown into an organization with more than 6,000 employees. It officially became NCR Corporation in 1974, and was acquired by AT&T in 1991. In 1996, NCR was spun-off out of AT&T and once again emerged as a stand-alone NCR Corporation in 1997.
Along the way, NCR racked up firsts for everything from the cash register to automated credit systems, LCD screens, thermal printing, the world's first transistorized business computer, open systems architecture, self-service checkouts, and a lot more.
Business Transformation to Omnichannel Banking Solutions
It's at this point that NCR kicked off its customer-centric business transformation process, since banking customers had started moving to digital banking. They decided, accurately enough, that banks wouldn't be investing so much in ATMs and other branch banking systems as they would in branch transformation. So the company moved towards what would facilitate its customers' needs – omnichannel solutions that could be used to implement this branch transformation.
In 2009, NCR relocated it's corporate headquarters to Duluth, GA, and is now located at offices in Midtown Atlanta, which is the world's largest hub of fintech companies and payment transaction processors for the entire world's banking industry. NCR now also has a retail R&D center in Atlanta.
In 2013 and 2014, NCR invested heavily in acquiring retail software and services provider Retalix (NASDAQ: RTLX) for $650 million, and online and mobile banking solutions provider Digital Insight Corporation for $1.65 billion in cash.
The company now has over 400 deployments related to brand transformation, and is the world's top multivendor ATM software applications and middleware provider.