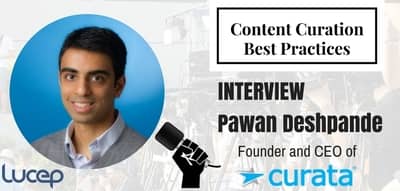 Pawan Deshpande is founder and CEO of content curation and marketing platform Curata, Inc.
Before founding Curata, Pawan has held software engineering and research positions at Microsoft and Google, in between research done at the MIT Computer Science and Artificial Intelligence Laboratory (CSAIL).
He holds several patents in areas such as social networking and machine transliteration.
His work at Curata has been recognized by the Boston Business Journal, and awarded the Sales & Marketing Technology of the Year Award by the Massachusetts Technology Leadership Council. Pawan is also a blogger on technology and content marketing publications such as the Content Marketing Institute (CMI) , Forbes and Marketing Profs.
Q&A With Pawan Deshpande
Question: First, we'd like to know how you got started with content marketing. What was the inspiration behind the idea for Curata?
In 2007, I started the company with my freshman year roommate from MIT. We knew a lot about tech, but we didn't know anything about content marketing. I don't think content marketing was even a phrase yet, then.
Our initial idea was for a consumer app. The basic premise was that if you were interested in a specific topic – puppies, for example – we would aggregate content on that topic. The business model was that we'd put ads on the side that was relevant to the content. So, if the topic was puppies, then you'd see ads for dog food, dog toys, etc.
We found that the tech worked really well. We got a lot of good content on there. But we weren't getting a lot of visibility or traffic. The everyday hobbyist doesn't know how to market an online destination. So we started looking at other business models: media monitoring, competitive intelligence, we beta'd with some marketing departments. It worked, but the business value was relatively low. A lot of execs will look for five seconds at an email and then delete it.
Then, an early customer shared it externally to their broader industry. The customer didn't want to simply start another blog like all his competitors and add to the online noise. He wanted to make an authoritative online destination just about this topic. Within a few months, they were the go-to blog for their industry. This was before curation, before content marketing existed. That's how we landed at this business model.
Question: As part of your work as a software development engineer at Microsoft Corp., you developed a patented algorithm to intelligently recommend top contacts for corporate social networking. Is this being applied anywhere now, apart from MS-Office?
I have not followed if this is currently applied in Microsoft products, but the same concept is a fundamental feature for most major social networks such as Twitter, Facebook and LinkedIn. These social platforms automatically suggest who you should connect with by mining your digital communications and activities such as your emails.
Curation Tools with a Level of Humanness
Question: On the Curata blog, I read a post which says that at its best, curation is "Performed by a person, not simply a computer algorithm." How do you reconcile this with the fact that Curata is an algorithm-based curation tool?
While Curata is an algorithm-based curation tool, we've been very deliberate in retaining the human aspect of the curation process.
Curata uses technology where it can save time or do a better job than a person. This means crawling websites, finding new content, automatically tagging, adding author information, and other administrative tasks that cost content marketers time.
Ultimately, the algorithms are there to help the curator and learn from their actions and preferences. Without the human, the algorithms would simply not have anyone or anything to learn from.
For optimal results, curation should involve a level of humanness. A person should choose the final post to publish and editorialize it. This is how we reconcile. If the software can't do it better, we make sure there's an option for the human to do it themselves.
Key Benefits of Curation
Question: What are the key business benefits of content curation? How does it help you overcome challenges?
Key business benefits of content curation are robust. In terms of marketing, curation improves brand awareness, incorporates outside voices, establishes credibility as a thought leader, improves search engine optimization, streamlines lead nurturing, supports lead generation, and boosts social media blogging.
For many organizations that aspire to do content marketing, creating original content for all the marketing channels, be it social, email or blogs, on a regular basis can be a daunting and costly prospect. Curation can greatly help such organizations increase their content velocity and output without having to hire additional staff.
Using content curation software has benefits that span beyond these marketing goals. It allows business to track competitor coverage, record press mentions, release newsletters, educate employees and monitor media.
Content Curation Best Practices
Question: What are your top 5 recommended best practices for content curation?
Once you have the basics down, curating posts is quite simple. Here are best practices:
Change the Title : Provide value to the person you're linking back to, copying their title will step on their toes.

Change the Image : Avoid copyright issues with the posts existing image.

Add Your Own Editorial : Make the post your own and provide additional value beyond what's included in the original post

Add a Quote : Include a quote from the original post

Give Credit : Attribute the quote and the source article in your curated post. I recommend including a call to action at the end of the post encouraging readers to visit the source articles.