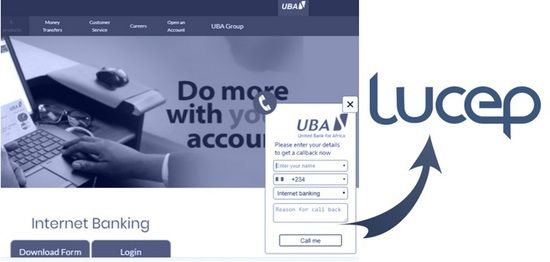 United Bank of Africa, a Lucep customer, has won awards for innovation and their use of technology for more effective customer engagement and delivery of digital services.
This click to call case study explains how Lucep's technology enabled this bank to improve their customer engagement process, generate more leads, and reduce call center wait times.
About UBA
Third largest bank in Nigeria, with approx. 10% market share;
Over 8 million customers, with operations across 20 un(der)banked African markets;
Over 1,000 branches, 2,400 ATMs and 13,500 PoS;
Challenge: Improve customer experience. Reduce call center wait times.
The UBAGroup website gets over 34,900 visitors per month, and a lot of calls that are generated as customer queries and leads generated from the website
They were in need of a customer engagement solution that would be more effective in enabling the UBA Customer Fulfillment Centre (UBACares) division to talk with their customers.
The Solution: Click to Call website widget.
United Bank of Africa has now implemented Lucep Click to Call on its website (ubagroup.com) very effectively. Contact center wait times during office hours have been reduced from 40 minutes to under 12 minutes. For this latest month, the bank received 136 customer queries and leads, and 88 push notifications, from the Lucep tool on their website, which clocked 34,909 visitors (UBAGroup.com Lucep traffic analytics – Avg / month).
The bank didn't want to miss even a single prospect coming to their website with an intent to buy a product. They contacted every prospect at that moment of intent, and the results were mindblowing!
NPR Score and Customer Engagement
In addition to engaging thousands of visitors on their site, Lucep has also managed to double UBA's net promoter score (NPS). Lucep offers an NPS integration which sends a SMS customer satisfaction questionnaire. So we know for a fact that UBA's customer satisfaction went up instantly after the Lucep widget was implemented.
Also, if your customer and the media is writing about this newly improved customer experience, then you can be sure you're doing something right.
UBA Group deploys AI-powered callback technology for instant customer response – TechMoran
UBA Begins Use of AI-Powered Callback Technology – Business Post
UBA delights customers with callback technology – Business News Report
UBA disrupts market, delights customers with Callback Technology – The Eagle Online
Lucep Click to Call Features
Signup for a free trial to add this Lucep click to call widget at the bottom of the screen for all of your visitors.
When they click on it, they will be prompted to enter their name and phone number, and choose the service they are interested in.
See the live demo here. Click to call, and we'll call you back instantly. You can do the same for your customers.
Lucep can be implemented within minutes, and you'll be getting calls from customers on your website today.