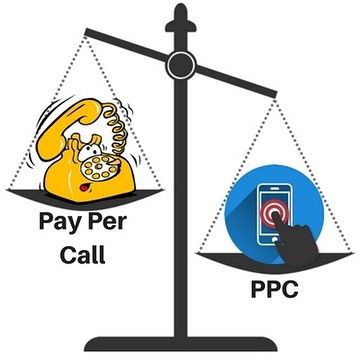 As a click to call back tool for websites, Lucep is deeply interested in introducing the web to phone concept to marketers and businesses who want to talk to their online customers. That's why we're looking at web to phone case studies and analysis that show the dramatic difference between PPC and pay per call.
The good news is that we have very powerful supporters for our business model, because the search engines like it very much. It's a matter of dollars vs cents – pay per call provides between $50-100 per visitor who clicks to call an advertiser, whereas the same visitor clicking over to the website of the same advertiser typically generates anywhere from a few cents to a couple of dollars at most per click (avg. CPC last year was $2.14).
PPC still remains the dominant form of online advertising, but the future is very clear:
• The cost per conversion for PPC has risen from $10.50 four years ago to $33 as of last year (source – Hochman Consultants );
• Mobile devices now account for 53% of paid search clicks (source – invespcro.com ); and
• 70% of mobile search users on Google have called a business directly (source – Google.com ).
Now, just to hammer home the point, let's look at some pay per call case studies that show how adding a click to call widget on a website page increases lead generation and conversion rates.
CUnet School Enrollments Pay Per Call Case Study
Paramus, NJ-based CUnet is a part of Nelnet (NYSE: NNI), a leader in education planning and financing. CUnet, in partnership with call performance marketing company RingRevenue, has published a case study on the impact of a phone number to existing website enquiry forms.
The study looked at data from two schools that were using Cunet's solution. One was a regional private sector school, and the other a university with many campuses across the United States. After adding pay per call to their enquiry form, the regional school saw a 49 percent increase in visitor-to-inquiry conversion rates from their site. The larger university logged an inquiry-to-start ratio nearly three times that of their old web form inquiries, as well as a 6% lower overall cost-per-start.
The logic behind the huge increase in leads online is very clear. Students researching schools hate having to fill up a form on a school website and then wait for a response for an unpredictable period of time, even as they are also considering other schools. If you offer them a click to call option, there's bound to a surge in responses from students who want immediate answers.
If you're a school that offers instant response to student enquiries on your website, and no other school has responded to their queries as yet, guess which one the student is going to list as their first choice?
The Search Agency Dentist Referral Pay Per Call Case Study
Another pain point on the web is that it's hard to track conversions when you don't know where a call originated from. The Search Agency has published a case study about one of their clients, an online healthcare referral service that connects patients with dentists. The client's own marketing team didn't have the capabilities to track performance data and click-to-call conversions. They needed to track the metrics and find out which calls originated from which paid search advertisements for what keywords.
The Search Agency switched the client over from PPC to pay per call. Instead of visitors clicking through from search ads to a landing page, they were now directly calling the company from paid search ads. As a result of this switch, the client reported a 248% increase in revenue from paid search.
StaffingMedical USA Pay Per Call Case Study
This is from a MarketingSherpa interview with a pay per call marketer. StaffingMedical USA was testing PPPC (per per phone call) ads on their provider networks for keywords such as "travel nurse." The text ad contains only the phone number as a call to action (no email or website link), and when a user clicks on the ad, a small window pops up to show a small amount of text and the company logo.
Of the calls that were generated from this campaign, a full two-thirds were qualified leads. The average conversion rate for StaffingMedical USA's pay per call network was pegged at around 3.3%, while their other search engine PPC campaign conversion rate was about 0.66%.
Pay Per Call PPC Ad Optimization Case Study
This is probably the best case study to highlight the impact of switching from PPC to pay per call. WebsiteOptimization.com has published a case study for Phillydentistry.com in which they take an existing PPC ad campaign and make it a "call only" ad for the same keywords on Google Adwords.
The results are spectacularly different:
Conversion rate for new call only campaign – 56.4%; Cost per converted click – $4.35
Conversion rate for old PPC campaign – 8.3%; Cost per converted click – $72.33>
Net result is that pay per call generated more calls at 1/10 the cost of the PPC campaign.
In the month before the call only campaign was launched, the average cost of generating a call from the PPC campaign was $161.95. After the launch of the pay per call ad, the average cost/call dropped to $44.06.
What all these case studies show is that click to call was a cost effective paid search solution even before online consumers switched enmasse to smartphones. Now, with more than half of paid search volume already on mobile, pay per call is simply the best option you have for online advertising.