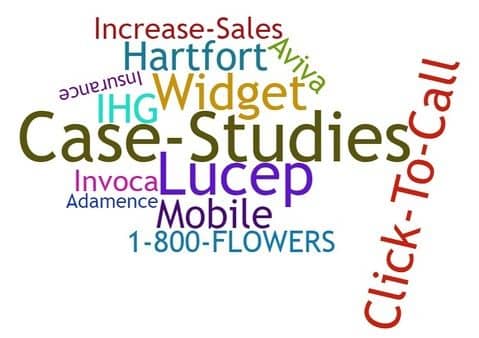 Every problem or bottleneck on the web results in another flurry of innovation that, in the end, makes the online experience better and more useful for people. This is what is happening with the click to call widget, which is fast replacing click-throughs and PPC as the dominant CTA (call to action) on the web and on mobile.
The problem: Website visitors are just not clicking on text links, PPC and banner ads.
The solution: Click to call or web to phone, which moves people from your website to a sales rep's phone for further engagement.
Google is far ahead of the curve with its pay per call ad model on Adwords. In fact, they offer two models:
A) "Call extensions" that add click to call functionality to a PPC ad with a phone number on it; and

B) "Call only" ads where the CTA is itself a phone call with no hyperlink.
Highlighted below are some case studies based on these pay per call ad models, along with some that went a step further and implemented their own click to call widget to increase sales.
IHG Click to Call Mobile Ad Copy Case Study
IHG, one of the world's largest hospitality groups, wanted to generate more revenue from paid ads targeting mobile users. Before, they were simply inserting phone numbers into the ad copy, without making it click to callable, so to speak.
Now they tried adding click to call in the ad, so that mobile users could click on the phone number to initiate a call. The result was that traffic to their mobile site increased by 20% month-on-month, and the total mobile search activity shot up by 91% year-on-year. IHG's mobile click-to-call ads started accounting for roughly 40% of their global mobile marketing revenue.
Hartford Click to Call Insurance Quotes Case Study
The Hartford Financial Services Group is a diversified provider of life insurance, automobile and home insurance and other financial services products for US consumers. The company wanted to increase the number of insurance quotes and policies that were being generated online through the website.
In order to engage some of the people who just left the website without talking to anyone, the company started using ATG's click to call solution to provide live help to prospective customers on the website. The result is that 2% of all of Hartford's personal insurance customers use the click to call solution to engage with an insurance representative before they buy
Aviva Click to Call Insurance Quotes Case Study
Like Hartford, Aviva was also looking to convert some of the website visitors who were not filling up their online life insurance application process. They made use of Optilead, which enabled Aviva to track website visitors and respond to them in real-time. If any visitor appeared to be having a problem, Aviva could instantly call them and offer assistance in filling up the application. They managed to connect with around 50% of the leads, and feedback from those who were contacted showed appreciated the effort. Aviva was able to increase their online conversion rate using this click to call model.
Invoca Insurance Client Pay Per Call Case Study
This is an AdReady case study about one of their clients who is a nationwide life insurance company that wanted to reach potential insurance buyers all over the U.S., and generate inbound phone call requests for a free insurance quote.
AdReady implemented a pay per call campaign, and made use of Invoca's call intelligence platform for tracking pay-per-call conversions at a keyword level. The result was that in three months, the company got 50,000 inbound calls from this campaign at a much CPC that started producing upto 1,600 conversions per week. The client was happy enough with the results to double their budget for this campaign, and geared up to run more click to call campaigns after that.
1-800-FLOWERS Click to Call Cross-Device Case Study
With an increasing number of their customers using mobile devices to research and compare products and place orders, 1-800-FLOWERS wanted hard data on the impact of their mobile click to call ads, and understand how customers were moving across devices.
An in-depth study of their traffic analytics data showed some surprising results. An overall increase of 7% in conversions was detected for conversions that started on one device and ended on another one. Also, conversions that started on a mobile ad click were 4% higher. All told, the company found an 8-10% increase in overall revenue from Adwords that they attributed to Click to call.
Adamence Click to Call Widget Case Study
Adamence is a France-based online jewelry company that wanted to provide support for online customers. They made use of iAdvize, a click to call widget that connects shoppers to experts in the same niche as the website. So jewelry shoppers on Adamence's site would be connected to jewelry experts who could help shoppers find the right piece of jewelry for the recipient. Note that 60% of the online buyers on Adamence's site were men buying gifts for special occasions.
After implementing the click to call widget, the company's contacts with customers increased 20-fold, and the resultant conversions were 15% higher than before. The best part was that this channel of contacted customers provides a 93% customer satisfaction rate.
Lucep Complex Sale Click to Call Widget Case Study
It's an established fact that instant response to sales leads using a click to call widget increases your chances of qualifying the lead by 50% or more. A full 63% of buyers give their order to the company that contacts them first. But It's also very helpful for the complex sale that can't be closed right away.
Lucep recently called in a team of researchers from the International Business Development (IBD) program at the Haas School of Business, UC Berkeley to study the B2B SaaS sales market. One of the things they did was to talk to existing and potential Lucep customers to find out how instant response to leads benefits them.
One of the people the IBD team spoke to was Gurtej Gill, customer success manager at social media aggregator and content curation platform TINT. Gill told them he decided to experiment with lead response time to call back leads within 5 minutes, when before it would take him 2-5 hours. To his surprise, the sales cycle was considerably shortened from 25 days to about 22 days. Gurtej attributes this to two things – calling the customer back while in the purchase mindset, and contacting them before they could reach out to TINT's competition.
Want to see a Click to Call widget in action? Enter your phone number into the widget on the right. We'll talk you through it.