Salesforce may be the world's most popular CRM, but is it right for you? Every sector has its own unique sales process and CRM software that is built to meet the needs of this process.
If you are in the business of selling cars, then you need an automotive CRM that is dedicated software built for car dealerships.
What is an automotive CRM?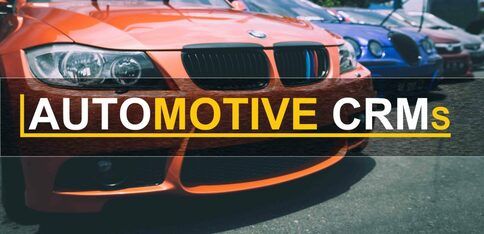 So what exactly is an automotive CRM? Since we're in the business of helping our clients with sales, we decided to answer this question and find the best automotive CRM for car dealerships.
Take a look, and pick one of these to drive your sales.
1. DataCar.
DataCar CRM is customer management software that helps car dealers with everything from developing brand image to improving commercial performance and profitability. More than 30 years of experience and a solution solely dedicated to car dealerships makes DataCar a very popular CRM in this sector. With centralized managing abilities, you can easily take charge of your entire network's relationships with this software at the center of your automotive sales stack.
DataCar features include:
Activity Tracking – Managing leads, action items and sales staff activities.

Deal Stacking – Managing multiple sales of new and old cars

Marketing – Includes multi-channel and web marketing
With DataCar CRM, you can get a bird's-eye view on all your client data as well. Profile details, after sales records, number of pre-owned vehicles, preferences, sales offers, complaints, and many more can be accessed quite easily that too all under the same screen. Also, a 24×7 full web service and a direct connection to your current DMS system makes it a multi-brand CRM certified by many car dealers and manufacturers alike.
2. DealerSocket.
DealerSocketCRM is an all-in-one automobile CRM that combines contact management tools, dealership tools and marketing and sales tools, all under the same platform. This one-stop destination for all your dealership needs, will not only help you save time and close more leads faster and efficiently but will also provide you other services you would have never predicted a CRM doing it for you.
DealerSocket features:
Sales Management – Centralized view of all metrics that lead to a sale.

Lead Management – Track and manage leads with lead tracking capabilities.

Showroom Tracking – All staff tracking including all showrooms and phone prospect interactions.

Mobile Sales – Track and manage all sales activities from your mobile phones through a native app found on Google Play store and Apple app store.

Checklist – A sales checklist to ensure staff is up-to-date with the right information from each customer.
DealerSocket also provides a wide ranging list of additional services that helps you streamline and automate used car sales and marketing, with proactive tools tailored to your dealership's unique needs.
Your marketing team can benefit from in-depth reporting and analytics. Service teams will love using service management tools such as appointment portals, real-time notifications and mobile apps. Your sales team can respond to fresh leads straight from their phone or online. The database can be built to target prospects and repeat customers, and will help reduce your costs in the long run by focusing on what is working.
3. VinSolutions Connect.
VinSolutions understands the need for dealerships to connect with every visitor and then turn them into leads by building relationships with them. That's why Vinsolutions Connect is a dedicated CRM for the car dealership network, developed by experts with a lifetime of automotive experience.
Vinsolutions Connect features:
Availability – It comes under one of those very few tools that give you 24/7 dealership sales and marketing information to clients.

Custom Process – Create and manage custom processes to stay connected with each buyer.

Targeted Marketing – Launch targeted marketing campaigns that address customer sales and service needs.
Other features include call tracking, desking, inventory management, and vehicle valuation. In addition to all this, VinSolutions also helps its customers build custom dealership web sites, uploads inventory photos and offer consulting services, client training and customer support as well.
4. Stockars.
Stockars is another great CRM that has made managing leads as easy as pie for car dealerships. It has got a clean and easy-to-use interface for managing everything.
Stockars features:
Stock Lists – Combined information of your entire stock list at one place to help you analyse leads quicker and close more deals faster.

Stock Management – Easy updates on all you vehicles status through desktop or app.

Price Sheets – Stockars also helps you in generating fabulous looking brochures to showcase your vehicles in a better way and also help out in sending email newsletters to your clients or potential clients with a simple process.
The Stockars mobile CRM app can be utilized by new or used car dealers to do business on the go. The app is fairly simple, intelligent, and always accessible anywhere your business takes you.
5. DealerPeak.
DealerPeak is an enterprise CRM that aims to make things simpler for you. It has been designed to streamline your sales process with robust features. DealerPeak also helps build websites for you that use your customer data in the CRM to personalize the car buying experience.
DealerPeak features:
Customized Dashboards

Mobile enablement

Personalized Views

Custom Workflows

Phone/text integration

Real-time notifications

Reporting

Coaching

Inventory integration
Apart from this extensive list of features, DealerPeak also comes with other integration options and tools to enhance marketing and sales automation. More tools to enhance this CRM's ability to improve communications and uncover other untapped opportunities including call recording and reporting, instant messaging services (SMS), Peak enquiry, their Quick Up mobile app, and a whole lot more.