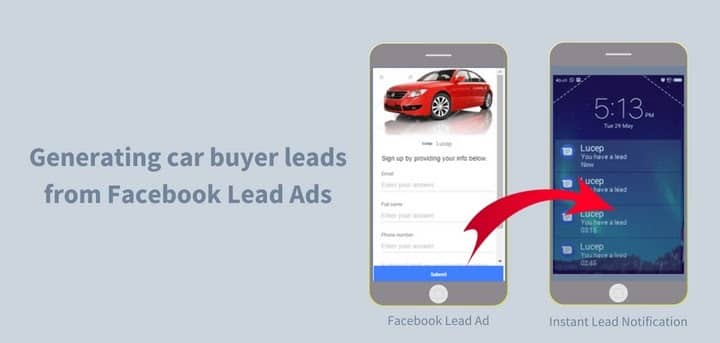 Social media is an important part of automotive marketing campaigns these days, with brands and dealerships in urgent need of supplementing walk-ins with digital buyer leads.
Covid-19 has made dealerships focus on safety and social distancing, and the number of people starting their car purchase research online has increased.
But this also means that they can't get that in-person look under the hood - kick the tires and enjoy the sight of a brand new car or bike. More touch points in the automotive customer journey and discovery are now digital, so we need to ensure that we serve customers as if they are at the showroom, including the opportunity to test drive at the moment of intent, when they want to.
Social media allows the brand to connect with the customer, with social proof from friends and family who can provide referrals and recommendations.
The question still remains - how do you move that social lead to the phone and convert it into a test drive, in the way you do with web leads or email marketing? This is what we want to show you in this article about processing and distribution of automotive social media leads.
Importance of automotive digital leads
Before we get to the processing and distribution part, let's take a look at why digital leads are so important for automotive brands and dealerships.
The utilization of social media significantly influences which dealerships to be visited by potential vehicle buyers.
A Facebook study (pre-Covid) has revealed that:
● 78% of auto consumers discovered new vehicles online compared to 29% in-dealership; and
● Mobile devices are an important discovery channel for all auto respondents, with 50% saying they discover new vehicles and brands on their smartphones or tablets.
A Google study shows that:
1. 95% of vehicle buyers will first survey online to get complete information; and
2. Two times as many automotive consumers start their research online instead of directly going to a car dealership.
An LSA study furthermore says that 76% of new and used vehicle shoppers perform research before buying.
Why Facebook is so important for automotive lead distribution
Social media marketing, especially Facebook, provides a significant advantage for the automotive industry since it offers more brand visibility, leads, and, ultimately - more sales.
When 84% of your prospects are on Facebook, why not place ads to reach people who have indicated they are in the market for a vehicle.
More relevant statistics from the aforementioned Facebook study:
●97% of auto respondents find some type of social media content useful when deciding on a purchase.
Among those who discover new automobiles on social media:
●45% said personalized messages via messaging apps.
●48% said posts from family and friends help them discover new automobiles.
● 71% said advertisements helped them discover new cars
Smart lead distribution of automotive leads from social media
Our customer data shows that responding instantly (within less than 10 min as opposed to the industry average of over 60 hours) will increase your test ride conversion ratio from 7.1% to over 31.33%.
By integrating a Facebook Lead ads campaign with a smart lead distribution plugin such as Lucep, automotive brands can send these social leads directly to the right dealership nearest to the buyer.
It can also be processed by a call center where the lead is qualified, and then pushed to the available sales agent at that dealership, who can instantly speak to the consumer and encourage them to book a test drive.
Lucep pushes millions of leads and notifications daily to automotive dealers and other clients all over the world. From our experience, here's a list of best practices we recommend you should follow:
1. Omnichannel solution to capture and drive lead distribution from all channels.
2. Real-time notifications with lead data.
3. Intelligent distribution based on sales team segmentation.
4. Gamify sales by giving the Lucep advantage to your best performers, which motivates others to do better.
5. Fast lead response.
6. Integration to pipe leads into your CRM.
Why do phone calls still matter?
In the age of digital, why is the phone call still important for company profits?
1. Callers convert 30% faster than web leads.
2. Caller retention rate is 28% higher than the web lead retention rate.
(source: Forrester)
Lucep's open API embedded in sites can capture digital leads and allocate them to dealerships.
A call to a prospective buyer can go out within minutes, and a test-ride can reach a customer's home instead of waiting for the prospects to come to a dealer.
Our customer data shows that responding instantly (within less than 10 min as opposed to the industry average of over 60 hours) will increase your test ride conversion ratio from 7.1% to over 31.33%.
Want to know more? Download the full newspaper article on how fast response to auto buyer leads has turned around a national brand's dealership sales.