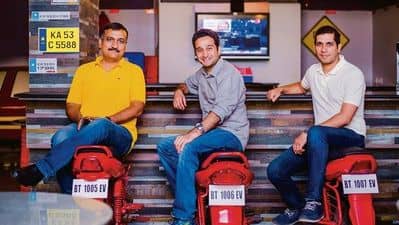 The Mint newspaper's print edition recently included a feature about Lucep. It showcased the fact that when the business starts handling digital leads at a fast pace, it results in quantum gains in sales or leads closure rates.
In this case study, you will find more details about our automotive marketing solution that helped deliver thrice the number of test rides for the same number of incoming leads. We are sure this is a good way to increase the number of sales and preventing the lead leakage in a market that is facing a challenge.
The client is a well-respected brand, well entrenched in the Indian automotive sector with dealerships in all regions. The pilot study was carried out in the Delhi-NCR region with all dealers participating, along with regional sales locations.
Leads raised across different digital platforms (website, Facebook lead ads, etc.) were instantly routed through to the CRM and the smartphones of sales team members at the right dealership, based on factors that included the location of the lead, availability of salespeople, and the auto model specified.
When we started the pilot, the client's median lead response time was 51.7 hours during week one. By the second week, it dropped to 19.3 hours, and then 3.0 hours by the third week. By the time the pilot ended in week 7, their lead response time had dropped to 6 minutes.
Automotive lead response time reduced from 51.7 hours to six minutes!
The impact was significant on the number of leads being converted into test drives. During the same duration in the previous year, they generated 328 test drives from 3,181 leads (a TR ratio of 10.3%). This year, as a result of the Lucep pilot, the 2,494 leads converted into 766 test drives (a TR ratio of 30.7%).
Test drives requested increased by 3X!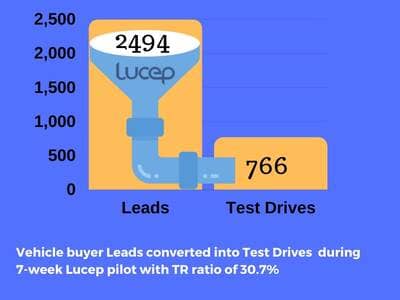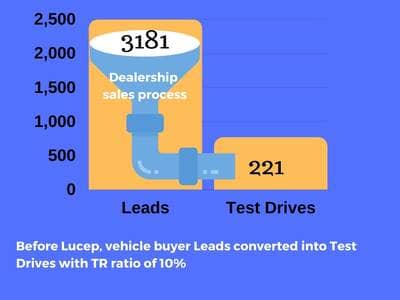 The client had originally intended to continue the pilot for 6 months. After reviewing the pilot results, the client decided to accelerate the rollout and included all dealerships in the big markets of Mumbai, Bangalore and Hyderabad followed up by Chennai.
This success builds on our earlier success in the automotive industry, thanks to being a part of the Startup Autobahn accelerator in Singapore. That allowed us to test, customize and implement Lucep for Daimler and some of their automotive dealerships.
Now we're able to customize our automotive marketing solution further to enable dealerships to capture specific and detailed automotive buyer data provided in customer queries. This means your sales people can call them instantly to schedule the test drive and speak with customers, armed with information about their preferences.
To find our how to uberize your sales team's performance, reduce your lead response time, and increase the number of test rides requested, click on the link below and fill in the form: