1. Discovery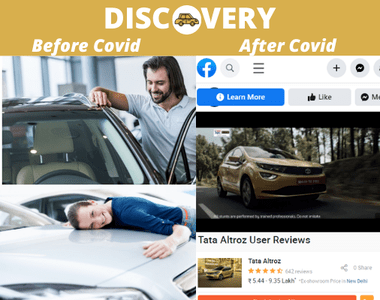 Even in 2019, before Covid, discovery was slowly moving to digital for the automotive buyer, but it has drastically shifted to digital first now.
Instead of looking for dealer locations and below the line events, car buyers are now looking at above the line campaigns on TV and auto magazines, social media and brand websites to discover the models that are trending and getting good reviews from buyers and media.
Automotive dealers need to reach and target prospects at this stage before they've made their decision or swayed by other competitors. 95% of car buyers researched online in 2020, as per the latest Google Gearshift India report, and they end up buying at a dealership showroom.
2. Information
Automotive brand and dealership websites have had to reboot quickly to adjust to the new normal. Before, digital was simply a way to generate a car buyer lead that was quickly moved to the phone after a quote or contact form was filled.
Now, there is a change in the buying process. Dealers know that they must provide enough information - specs, features, price, videos, options and more - all online, in order to move buyers to the next step - a test drive and getting people to the showroom for the experience.
3. Test drive
The test drive came early on in the car sales process, and was followed by the sales pitch about features, price, financing options, resale and other factors important to buyers. It is the test drive that makes people want to buy the car. As per the Google Gearshift India report, 61% of car buyers make their decision after the first test drive.
For buyers who now want a fully virtual car buying experience, some brands have set up virtual showrooms and "Click to Drive" immersive 360-degree views of their inventory, closely simulating the real test drive.
4. Customization
Digital customization by customers was not a high priority for brands and dealerships before Covid. The dealer sales executive would fill up the form, asking questions and noting down the preferences of the customer on a form.
Now, after 2020, a digital customization tool is a must if you want to provide an end-to-end online car buying experience.
5. Purchase
Before Covid, the booking was closed at the dealership, in person, with a handshake. The sales executive would then fill up the financing forms, and get the buyer's signatures. The customer would drive out of the dealership with his car.
After 2020, brands have started highlighting their ability to take bookings online with a down payment. Financing is also done entirely online, with banks offering 30-second approval for vehicle loans for their own net banking customers. The amount is disbursed directly to the selected dealership, which has already received the down payment. The car is then delivered to the customer's residence.
6. Servicing
Before Covid, servicing meant heading out to your dealership, handing over the keys, and then coming back to pick up the car after it is serviced.
Now, in and after 2020, brands and dealers are offering doorstep service with safe and "sanitized servicing" right outside your home.