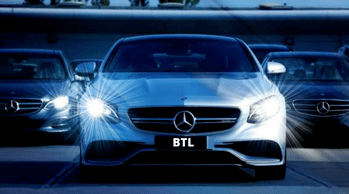 The marketing sector tends to spend a lot more on Below the Line (BTL) marketing campaigns relative to above the line, but what exactly is BTL?
What does BTL mean in marketing?
Below the Line or BTL marketing is where you target a specific group of consumers that have been identified as the target customer.
The intent, for marketers, is to take new products to this group of customers instead of waiting for them to discover you. For example, BTL launch events for automotive brands and dealers are aimed at allowing car buyers to see and test drive vehicles. It is an activity that complements generation of test drives by the customers already walking into the showrooms.
BTL is now a lot more important than before, since walk-ins have significantly reduced in 2020. Some of the launch events and campaigns we looked at were actually quite unique and interesting, so we made up a list of the most successful BTL marketing campaigns.
1. Smart fortwo Eball BTL test drive event
This very unique idea for a BTL test drive event addressed the key challenge that electric car makers face - the pickup. The perception is that EVs are environment-friendly, but not fun to drive.
By turning it into great fun to test drive (two cars being used to play Eball), Daimler's microcar brand Smart Fortwo removed this perception among those who took the test drive, making them want to drive and own it.
2. Mere paas mileage hai Mahindra Jeeto BTL campaign.
Mahindra Jeeto - Fleet on Street activity, a skit show involving two vehicles, had the goal of attracting an audience and conveying the message of high mileage - a vehicle that is the market leader in mileage.
As per ZtoA Marketing, this BTL campaign generated over 7400 enquiries, which led to more than 3500 test drives, and ultimately converted into 154 bookings.
3. Mega Experience Hyundai Camp
Hyundai organized Mega Experience Service Camps at 575 locations last year in November. Customers were offered a 360-degree experience that included a free service check-up of Hyundai cars, coupons for future visits, evaluation of cars for exchange, and test drives of new car models.
4. Aston Martin On Ice
Every man who has seen James Bond drive in the movies wants one of those Aston Martin cars that seem to be more science fiction than real automotive technology. Well, Aston Martin offered car lovers a real James Bond experience - Aston Martin on Ice.
Participants were offered expert guidance and allowed to test their driving skills on ice - on a mile-long frozen road. This BTL automotive marketing event by Aston Martin has become hugely successful, and is now an integral part of their array of bespoke driving experiences.
5. Skoda - Simply Clever
Immediately after lockdown, when the only people traveling were premium and business class fliers, Skoda targeted them by booking the most valuable promotional space at Terminal 2 (T2) in Mumbai Airport.Simply Clever, the campaign (and Skoda's tagline), made use of the largest LED installation ever for an experiential marketing display at an airport.
The wow factor of such an awesome display of cars immediately as you exit the terminal must have made a significant impact on all the potential car buyers who walked by. Simply clever of Skoda to get car buyers to start considering whether they should check it out.