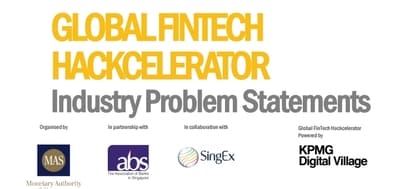 On Nov 12, 2018, Lucep along with 19 other teams of fintech, insurtech, regtech and suptech innovators will take the stage on Demo Day, at the Global FinTech Hackcelerator.
We were thrilled to be one of the 20 teams shortlisted by a panel of industry judges out of over 304 submissions from over 40 countries!
What is Global FinTech Hackcelerator?
Global FinTech Hackcelerator, run by KPMG Digital Village, is a 12-week Hackcelerator program organized by the Monetary Authority of Singapore (MAS), in partnership with The Association of Banks in Singapore (ABS), and in collaboration with SingEx.
As a part of the program, we were assigned corporate champions and industry mentors from Allianz and Standard Chartered Bank. With their assistance, we're now developing and refining our solutions into prototypes that fit the context of the stated industry problems. This contextualized solution is what we'll be pitching on Demo Day, at the SG Fintech Festival (Nov 12-16, 2018).
80 problem statements at Global FinTech Hackcelerator
Each year the MAS, ABS and SingEx reach out to the banking and insurance community and ask about the challenges that are keeping industry professionals up at night. The responses are then distilled into 'problem statements' that are then shared with the fintech start up community. This approach ensures that the Hackcelerator tackles issues that truly matter and ultimately enable banks and financial institutions to offer more efficient, effective and valuable services to customers.
This year there were 80 problem statements, categorized into insuretech, financial inclusion, regtech and suptech as well as a general category.
Since Lucep is pitching in the insurtech category, I'm going to list all 18 challenges in this category, and then explain in brief the problem statement we're addressing.
Hackcelerator will shape the future of insurance
or us, the most exciting part of being a finalist is the opportunity to shape the future of insurance. The 18 insurtech problem statements this year cover the entire insurance lifecycle – from product development, to underwriting, distribution, customer engagement and claims – and is an indicator of digital transformation that sweeping the industry.
Global FinTech Hackcelerator Insurtech Problem Statements
01. Interactive investments ecosystem
02. Insurance document ledger
03. Natural catastrophe prediction
04. Interoperability between insurers and third party systems
05. Personalised insurance
06. Risk based on demand insurance
07. Automated insurance claims
08. Detecting fraudulent behaviour
09. 360-view of customer
10. P2P Insurance
11. Predictive claims analysis
12. Insurance for the aging
13. Micro-insurance for on demand economy
14. Integrated information exchange for healthcare
15. Product disclosure awareness
16. Drone Insurance
17. Personalised life insurance aggregators
18. Improved customer engagement
What Lucep brings to the table at the Global FinTech Hackcelerator
Lucep is working alongside fellow changemakers and disruptors to solve problem statement 9 on 360-view of customer, which addresses how customer data across multiple data sources be consolidated for insurers to have a 360-view of the entire customer journey and facilitate more meaningful engagement with their customers.
We're a great solution for this challenge because Lucep's lead capture and distribution platform is the bridge that connects a customer's digital engagement, from multiple sources, to personal interaction with an agent.
Our omni-channel engagement system captures leads from digital channels – such as website chatbots, social media, online forms – and directs them to the best agents available to instantly respond. Lucep provides 360 degree information on the customers digital engagement and integrates with insurers' customer intelligence and CRM systems. This empowers agents to have more meaningful, high-quality conversations for an accelerated, seamless and personal customer experience.
Global FinTech Hackcelerator Venue and Location
If you want to be there to join us, these are the event details and location:
What: Global FinTech Hackcelerator at Fintech Festival
When: Afternoon on 12 Nov, 2018
Where: Singapore Expo (Hall 1 to 4) ,1 Expo Drive, Singapore 486150