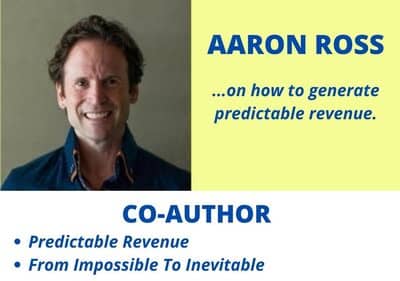 Aaron Ross is the CRO of Predictable Revenue Inc. and co-author of the award-winning, bestselling book "Predictable Revenue : Turn Your Business Into a Sales Machine with the $100 Million Best Practices of Salesforce.com."
As Director of Corporate Sales, Salesforce.com, Aaron created a "Cold Calling 2.0" framework to enable his new sales team and process to grow Salesforce.com's recurring revenues by $100 million.
Aaron is also now the cofounder of PredictableRevenue.com, which helps companies accelerate outbound sales growth with consulting, outsourcing and software.
Aaron's latest book, co-authored with former EchoSign CEO Jason Lemkin, is titled "From Impossible To Inevitable : How Hyper-Growth Companies Create Predictable Revenue." It details the hypergrowth playbook of companies like Zenefits ($1 million to $100 million in two years), EchoSign ($0 to $144 million in seven years and acquired by Adobe), and obviously Salesforce.com, now the fastest growing multibillion dollar software company.
In the section below, we have answers from Aaron on how to generate predictable revenue and fill your sales pipeline with a steady flow of qualified leads – and without sacrificing your family. These answers are excerpts from books written by Aaron Ross (Predictable Revenue and From Impossible To Inevitable), published here with his consent.
1. Implement Cold Calling 2.0.
"The biggest bottleneck in prospecting into companies that have more than a few executives isn't getting to the decision maker/influencer/point person…it's finding them in the first place!
Write a totally "short and sweet" different email – in plain text, with no HTML — simply asking for a referral to the right person at the company."
On any given day, the rep should send 50-100 targeted mass emails with a goal of having 5-10 responses per day (assuming about a 10% response rate)."
This is what Aaron calls Cold Calling 2.0, and it's the core component of the outbound sales process that helped Salesforce go from 0 to $100 million, and generate predictable revenue year after year.
Can Cold Calling 2.0 work for your company too? It can, if you have a CRM, a person dedicated to prospecting, your prospects use email, and your customer lifetime value (CLV) is more than $10,000.
2. Don't let Account Executives (quota-carrying salespeople) make cold calls.
If you want to take an important step towards turning your sales organization into a sales machine, start by letting your Account Executives (the sales reps closing business) focus on what they do best: work active sales cycles and close.
Implement a Sales Development function to prospect for new clients to ensure a predictable, sustainable supply of qualified leads for the field and/ or telesales teams, and a Market Response function to qualify the leads that come into your website, through the telephone or other "inbound" channels.
Now…your Account Executives SHOULD prospect, but only to a small number of important customers or partners. In a perfect situation, they are prospecting 20% of their time and working their active pipeline 80% of the time.
3. Follow up on emails with phone calls.
Once you have used email to generate internal referrals to the right person(s) at the target company, follow up on the responses and referrals with phone calls.
We see clients who use the phone actively in addition to emailing usually double the number of appointments they book.
4. Move prospects through "Account Status" assembly line stages.
You can't predictably create revenue without predictable pipeline, and that requires ways to measure and track how pipeline gets created. Just as you use stages in your sales process to track movement and progress through it, you need similar stages in your prospecting process.
Account statuses – 1. Cold, 2. Working, 3. Qualifying, 4. Passed, 5. Nurture, 6. Avoid.
Sales-Life Balance Tips From Aaron Ross
Question : It seems you manage to keep a 25-30 hour work week, which is great for anyone in sales, and nothing short of amazing for a person with 12 kids and a prolific list of achievements such as yours. What's your secret?
Aaron Ross (excerpt from Impossible To Inevitable) : I stick to, but not rigidly, that 20–30 hour workweek. Typically three days a week are 4 to 5 hours of actual work, and two days are 6 to 8 hours. Some weeks it's a lot more, if I'm traveling or have a big deadline.
I couldn't have done any of this without Nailing my Niche, specializing 100% in an opportunity where I had the easiest time making money… Once I specialized in serving business-to-business companies with at least $1 million in revenue, who needed to grow, who wanted predictable lead generation, but who weren't doing outbound prospecting yet (see? Being specific!), business picked up. My rates went up by 10x, too, when I specialized.
The methods I used in the first several years are the same as in #1. Nailing A Niche, #2. Create Predictable Pipeline, #4. Double Your Deal-size, and #5. Do The Time. I work to find trusted partners on projects, so I'm not doing everything alone. After cofounding Carb.io, and now that our software company is growing, I've added focus on the others #3. Make Sales Scalable and #6. Embrace Employee Ownership.
I work to find trusted partners on projects, so I'm not doing everything alone.