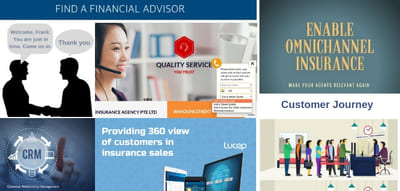 We keep our customer engagement fairly simple - collect your customer's data (name, contact, service required) on whichever digital channel they are on, and connect the right person to speak with them on the phone - within a few minutes.
It improves our conversions and enhances the customer experience (trust, reliability, first contact resolution, etc.) when they know that they will get an instant response - every time.
But it may not be so easy for every business. In fact, only 23% of marketers say that they're extremely satisfied with their ability to leverage customer data into a more relevant customer experience. So this is the question we're attempting to answer here"
How to improve customer experience?
Here is a list of seven ways that will show you how to improve customer experience, making use of the gold mine of data that your own business generates.
1. Customer identification and personalized engagement.
Identify your customers at source, at the first point of contact, and personalize the entire customer journey from that point on. Most of our customers doing inbound marketing will respond to leads with an introductory email, which is often automated or an instant response.
The open rate, click rate and call (Lucep callback plugin for websites, social media and mailers) rate for these lead qualification mails goes up whenever the mailer is personalized. To do this at scale, you need to create customer segments. Identify prospects at the first point of contact, add them to a segment that fits, and initiate an automated response that is personalized by segment and customer name.
2. Automated lead qualification and response.
We have published a list of first call resolution (FCR) best practices that you can read. One of these best practices, which will increase your FCR rate, is to respond faster than you do now. But the problem is that you want to qualify leads, score them and then chase the ones that are most likely to convert.
What we're doing is to bring you the best of both – by instantly qualifying leads using automation, so that your agents can call back insurance buyers within minutes, already armed with data about what the buyer needs.
3. Redefine business goals into CX goals.
An Accenture insurance sector survey states that "Insurers are moving from a product-focused sales process to one that is intimately grounded in the needs of the customer," and provides the following statistics to back it up:
59% – Insurers prioritizing move to a more customer-centric model;
63% – Plan to improve needs-based selling; and
57% – Plan to make greater use of customer data analytics at the point of sale.
This is our goal, when we're customizing lead capture and distribution processes for verticals such as insurance, banking and other financial services. It could be to optimize the process of an RM or insurance agent calling to provide reliable expert advice to insurance buyers after they have filled an online quote form. It could be to offer more personalized service and reduced wait times at a bank branch where customers have scheduled appointments online.
The business goal is to sell insurance or banking products. A customer-centric insurance goal would be to provide advice and product recommendations that eliminate or minimize the risk at an affordable price. For banking, it means matching location and needs with a physical branch, and access to financial advisors and customers' own digital data and services.
You then need to make business process and infrastructure changes to achieve this CX goal. If you're a bank, you end up with a bank branch transformation initiative. Insurance companies will launch new digital lead distribution channels that connect the right agent to buyers who can then advise customers about what to do.
4. Map your customer journey and accompany them.
Think of it as you would an in-person visit by a buyer to your store. A customer walks in, you greet them if you know them by name, and ask them how you can help them.
They tell you what they need. Now you have to accompany them as they check out the goods, and ask questions that you answer.
The only difference is that this process now has to be digitized
Instead of abandoning them to check out the goods on their own while you sit at the counter, be a good store keeper – map your customer's journey and accompany them – answer their questions on any channel they happen to be on at that time.
This seamless movement forward together on the buyer journey, across channels, is what Lucep implements for our clients as omnichannel customer engagement.
5. Create and manage relationships with CRM.
Once you have identified who your customer is, you can improve their overall experience by using customer relationship management software (CRM) to establish and maintain a solid relationship with them.
CRM can help you facilitate every interaction you have with the customer, simplifying the processes involved in selling. Not only that, but these relationships can give you a good understanding of who your customer is, what they are looking for, and how they want it delivered, overall improving the customer experience.
6. Linkage analysis to find relationships between tracking metrics.
If you take a look again at the four points above, you'll find a lot of metrics (click rate, open rate, lead response time, lead qualification rate, FCR rate, etc.). These are coming from disparate data sources (mailing lists, CRM, etc.). Link these disparate data sources so that it creates one record for each customer containing data from these different sets
This linkage analysis will help you find and quantify the relationships between all the metrics you're tracking using different data sources. Combining them gives you a 360-degree view of the customer and that's an invaluable tool for your customer engagement and sales teams.
7. Focus on the data you need, when you need it, to improve customer experience.
Some of you might be inclined to think that all this is just too much data. All you have to do is find out who is the customer, and what they need.
To continue the example of an in-person visit to your store by a customer, let's say the buyer said they'll come back later. Afterwards, they come back and there's someone else minding the store. The new staffer has no idea what you discussed. So the customer has to explain what was said in the previous visit all over again.
To improve this customer experience, whether online or offline, you need a way to identify customers as they enter, and then provide the history of past interactions to whoever is handling the customer this time. Making only this data available to your employees when they need it – on any channel – is what makes it a better omnichannel customer experience.