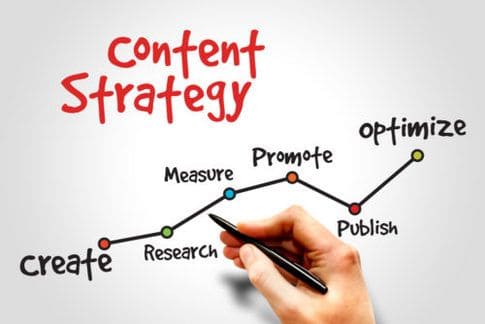 CMOs at the largest technology companies report that building out content marketing as a competency is now the second most important initiative for their organizations, only behind measuring ROI. According to the latest DemandGen report based on a content preferences survey, a full 51% of B2B buyers now rely more on content to research to make purchasing decisions than they did a year ago.
Companies today make use of content marketing for everything from lead generation to thought leadership positioning and increasing brand awareness, the top three goals of content marketing. How does it work? Learn from those who have done it, and done it exceedingly well. These examples below explain the strategies and techniques of 6 companies that are killing it at content marketing.
1. SunGardAS zombie content campaign.
An unconventional yet highly successful content marketing strategy was that of Recovery as a Service (RaaS) provider SunGard AS. In the run up to Halloween, the company linked its cloud recovery services to a Zombie apocalypse survivor theme in order to generate awareness among IT professionals for SunGard AS cloud products.
They took the campaign to multiple marketing channels to take advantage of the continuing popularity of zombies in popular culture. This included TV shows like "The Walking Dead."
The campaign was also timed to coincide with the summer zombie blockbuster 'World War Z.' The associated email campaign tied into the theme with messaging such as, "We haven't heard from you in a while. Are you among the walking dead?"
Sungard AS backed it all up with a downloadable "Zombie Survival Kit" ebook as well as an infographic. Both of these were tied back to their product offering with a CTA that directed users to a landing page detailing how to improve resilience without breaking the bank.
The Sungard AS Zombie content marketing campaign resulted in download rates increasing by 300%. It also generated a 5.7% email open rate and more than 20 leads.
2. Marketo content marketing strategy for Cards Against Humanity.
Cards Against Humanity is an extremely popular card game. Marketo's content marketing strategy was based on providing a downloadable game (Cards Against Marketing Madness) with slang and jargon that marketers can relate to. They also created a physical version of the game which they gave away through online contests.
The premise was simple enough. You get a marketing buzzword, question or sentence with a blank, and to respond to it, you have to choose from Marketo's list of funny responses. It caused quite a big buzz, allowing marketers to vent their frustrations about overused marketing cliches.
Read the full Marketo Cards Against Marketing Madness case study.
3. LENOX Tools marketing analytics strategy.
LENOX is a B2B manufacturer that creates industrial saw blades, power tool accessories and hand tools and provides it to companies that have metal cutting needs. Founded in 1915 with just 10 employees, LENOX has now grown to over 900 people and serves customers in more than 70 countries.
Their challenge was to shift the lead generation and qualification burden away from its sales team so that the sales team can go out and focus on what moved the needle for their business. Also, LENOX offers high-end metal cutting options that tend to be expensive, which in turn makes their sales cycle rather more complex and lengthy.
Apart from their regular ebooks, whitepapers, presentations, etc., their blog Industrial Metal Cutting, serves as a gateway for getting customers into the lead generation funnel. The regularly updated blog covers pain points and challenges in the metal cutting and metal-working industry. LENOX's content also made the smart decision to track the effectiveness of all pieces of content and campaigns that result in lead generation and qualification.
Through this campaign, the LENOX Marketing Division's contribution to the company's sales pipeline grew from single digits to nearly 10% of revenue growth. Apart from that, the company has also found that:
1. 29% of LENOX's engaged-state leads are inbound;

2. 50% of qualified leads are inbound; and

3. LENOX's Industrial Metal Cutting Resource Centre and landing page regularly earned top 1-3 search positions through targeted content.
Read the full LENOX content marketing case study.
4. Express Writers content pipeline strategy.
Express Writers offers a wide range of writing and creation services such as press releases, e-books, whitepapers, social media postings, blog posts, etc. Their content marketing strategy to outrank competitors and get consistent search traffic included publishing four 2000-word pieces per week for their own blog, along with 4-6 more pieces per week for major guest blog posts on high-authority sites as SEMRush, Search Engine Journal, Site Pro News, and the Content Marketing Institute. They managed to attract about 18,000 search visitors per month to their blog alone.
Just by consistently producing high quality content (not necessarily viral content), Express Writers gained traction by adding around 700 new readers a day
Read the full Express Writers case study.
5. SHIPSERV community user content strategy.
ShipServ is an online marketplace for the marine industry, connecting over 45,000 marine suppliers to more than 8,000 ships and 200 ship owners, managers and yards. The company runs an online trading platform, a supplier search engine, an ordering guide and an online ad network.
One of the primary problems they were trying to tackle was that their image in the marine community was that of an impersonal software company. They were also in an industry where their target clients weren't early technology adopters, and it was not a common practice at that time to close such big deals online.
By recognizing the lack of online community as an opportunity instead of a roadblock, ShipServ decided to build up on their social media and content marketing strategies, which eventually provided huge benefits through a first-mover advantage.
In just three months, they broke even on their investment, in the process generating the following:
a. Increase in Website visitors by 59%;

b. LinkedIn and Twitter went from nil to the top 20 traffic sources;

c. Landing page conversions increased by 150%;

d. Lead-to-opportunity conversions increased by 50%;

e. Number of sales-ready leads increased by 400%; and

f. Brand awareness increased considerably.
Read the full ShipServ case study.
6. Godot Media's consistent content strategy.
Godot Media is a content writing agency that offers a wide range of content creation services like article, blog, copy, eBook writing, etc. They also offer social media services like platform management, and content curation for social posts. Having a global client footprint in over 20 countries, Godot generates a rich number of monthly leads from organic traffic.
Posting high-quality, unique and 100% plagiarism free content consistently is a part of their successful content strategy. A minimum of 2 articles are added to their content marketing and writing blog on a monthly basis, and at least 3 posts are scheduled on a daily basis across all social platforms, taking into consideration the most active timings of the target audience. Another tip they use is adding eye-catching images to their posts to convey their message in a visual and appealing manner.
Content repurposing and cross-promotions is a concept Godot swears by. By putting out fresh content on a regular basis, they have been able to see an increase in conversions and traffic of up to 40% more than before.
For more information, head on over to their services page.