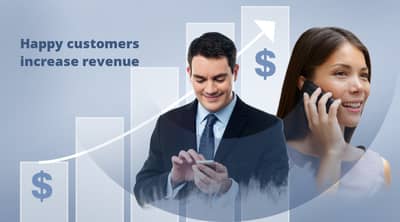 One of the things we do as a customer engagement platform is to engage our own clients for feedback. More leads and sales generated by Lucep for our clients means more revenue for them and for us.
So we're always on the lookout for ways to increase revenue with better customer engagement. This is what I want to share with you today. These are four ways that have proven to be highly effective in increasing revenue for us, as well as our clients and for any business that adopts and implements these processes.
1. Omnichannel customer engagement will increase revenue year-on-year by 9.5%.
McKinsey data (see omnichannel infographic below) shows that customers who make use of three or more channels hold up to nine products, while single-channel shoppers will buy only up to three products.
According to data from the Aberdeen Group1, companies that have implemented strong omnichannel customer engagement see a 9.5% increase in revenue year-on-year, as compared to 3.4% for companies who have weak omnichannel engagement capabilities
Furthermore, the cost for every touchpoint goes down by 7.5% year-on-year for omnichannel engagement. The customer lifetime value (LTV) is 30% higher for the set of customers who have been engaged across channels, as opposed to those who have become customers through a single channel.
2. Customer journey mapping to increase revenue and reduce costs.
The same Aberdeen research2 also shows that implementing a formal program to track and manage your customer's journey reduces costs and increases revenue.
Specifically, journey mapping will:
A. Increase marketing ROI (incremental revenue from campaigns) by 24.9% year-on-year;

B. Shrink the average sales cycle by 16.8%;

C. Reduce service costs by 21.2%;

D. Increase employee engagement by 200%; and

E. Increase revenue from referrals by 350%.
Michael Hinshaw, CEO of McorpCX, notes that since only 36% of companies do customer journey mapping, it gives a huge competitive advantage for those who track and manage journeys.
3. Identify and engage abandoned form fills to increase revenue by 15%.
The two bits of statistics below highlight the massive opportunity that exists to increase revenue, even for large enterprise companies, by identifying all the people who abandon purchase decisions and form fills half-way.
79.3% – Abandonment rate for new banking customers attempting to signup;
54% – Financial services form fill abandonment rate.
Make use of website forms that have the ability to capture partial fills in real-time, so that you have whatever data has been filled.
Set up a campaign to connect with these people who abandoned their applications, and encourage them to pick up the form from where they left off. Send them the link to the partially filled form, and ask them to continue. Show them retargeting ads on the web and on social media.
Since Lucep provides such website forms to our clients (customizable on-demand), we have some data about how it impacts revenue generation.
Using Lucep forrms and instant callback, it's possible to qualify 50% of the abandoned forms into leads. Factor in a 27% conversion rate through followup calls and retargeting of these leads, and you end up with a net 15% increase in sales.
4. Get more social sales from Facebook and LinkedIn.
As a business, it's really hard to quantify all the effort and resources you pour into social media. Social networks, by definition, are built for one-to-one social interactions. How do you achieve that same personal engagement at scale?
How do you measure the ROI from social media marketing budget? Is it increase in likes and followers, or clickthrus to your website, or number of impressions that your posts and media get? How much is your reach?
You know your customers are there on social media. But how do you reach them, and how do you pitch your product or services to convert them into customers, when you're not supposed to engage and not spam them?
Try Lucep's new Social Sales plugin. See the demo video here. Share relevant content with your leads, along with a form that asks them to select the service they're interested in.
Facebook Lead Ads to phone plugin for lead generation
How about we simply bypass these metrics and do's and don'ts, and go straight to lead generation? We recently ran a Facebook Lead Ads campaign targeting automotive dealerships.
After a few trial runs, it suddenly started generating a steady stream of leads when we got the targeting audience right.
Before this campaign, our social sales came mainly from LinkedIn, through personal contacts and some newsworthy stuff that we do now and again, such as winning a $100,000 Metlife insurtech contest out of a pool of 182 startups from 32 countries.
The hundreds of leads we're getting now from Facebook is a vast improvement, but the good news is that Lucep has developed a Facebook Lead Ads integration.
It sends you an instant notification whenever anyone fills out a lead form, and you can call them back while they still remember your Facebook ad in their feed.
Now we're doing the same on LinkedIn, using the Lead Gen Form that is a part of LinkedIn's Advertising options to retarget your website visitors, generate leads from your own contacts or a list of uploaded contacts/companies, or even a chosen audience based on geography, industry, demographics, job titles and other persona criteria.
References:
2. CMO.com