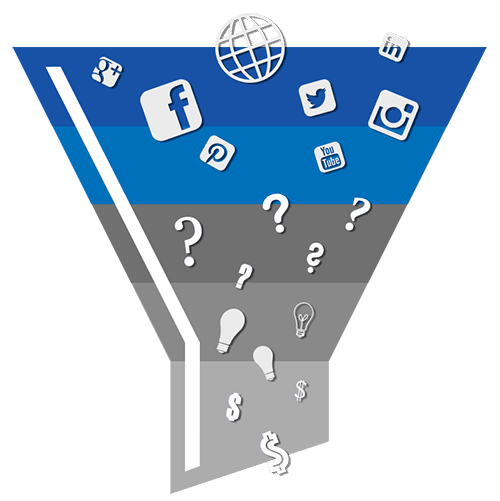 There are two ways to get more online sales from your website. You can get more traffic and/or try to increase your conversion rate. This second part is far more effective, because you simply have to focus on the right kind of visitors who are more likely to convert. The median conversion rate for B2B firms is 2.23%, which means you can increase your profits by up to 500% simply by doubling the conversion rate to around 4.5% to 5%.
All you need to do is acquire targeted traffic, engage them, and prioritize the leads being handed over to Sales. So let's take a look at the top 3 quick-win strategies that will fill your sales funnel with qualified traffic.
Targeted Content
You can start targeting qualified traffic with a little bit of groundwork for creating buyer personas, coming up with their pain points, and then keywords around those pain points. This last part you can do using tools such as Google's Keyword Planner.
Let me share an example of how this works. ServiceNow found that its employees spend around a day each week helping customers get new passwords. So the company went about attracting more of their target audience by coming up with keywords based on the pain point of 'password resets.'
They struck a chord with their audiences by cooking up a quiz called "Password Resets: Have You Hit a Boiling Point?" that mirrored their audience's frustration at having to spend so much time on such a mundane task.
71% of B2B buyers who see personal value in a product will make an immediate purchase. ServiceNow's content was able to stand out from others since it offered personal value and connected on an emotional level with their targeted audience. The result was a 11% share rate on Twitter!
Engaging Content
After going through six months worth of data for Lucep's top performing clients, we were able to identify some of the key practices of these top performers that consistently resulted in a sustainable pipeline of quality leads. Engaging content was one such factor.
The chart below graphically explains how engaging content makes a big difference in terms of lead generation.
Focus on the blue and yellow lines on the left side of the chart (more leads), because that side represent the block of Lucep clients who are getting more leads. Our job here is to look at the chart and find out what they are doing better in terms of getting visitors and engaging them. In the middle section of the chart with the colossal blue peak, you can see that more page views by visitors who go on to become leads doesn't necessarily need more uniques. This means you have engaging content, but it's not targeted traffic.
But on the left side, where companies are getting more leads, the page views climb and fall with the uniques. This is the group that is getting targeted traffic, and then engaging them in the right manner. Hence it's vital to create a content strategy that engages targeted website visitors from the right sources, and takes them down through a funnel of up to three pages in order to generate a lead.
LEAD SCORING
So now you have targeted visitors and engaging content that is generating leads for you. But which leads should you focus on to increase conversions? This is where lead scoring can really help your sales team close deals faster by focusing on leads that are high priority. A lead scoring tool can rate (with values) each of your leads based on their professional information and the behavior they have exhibited on your website. Its success rate has been proved by an Aberdeen Study which shows that companies that focus on lead scoring have a 192% higher lead qualification rate than those that don't.
Taking it one step further, predictive lead scoring is where lead scoring is carried out by the tool itself (with the help of a formula). For example, DocuSign, which makes use of Lattice engine for its predictive lead scoring needs, experienced a 38% growth in the predictability of conversions, said @Ryan Schwartz, director of advertising and operations. Lattice Engines CMO @Brian Kardon adds that predictive lead scoring can shorten sales cycles from 180 days to as few as 100 days, and can broaden average deal size by 20%.
Implement these three quick-win strategies, and you will see an instant and significant increase in your website lead generation and conversion rates.
Some other posts that you might find helpful
Are you missing out on these valuable sources of B2B leads?
How To Get More B2B Leads From The Internet