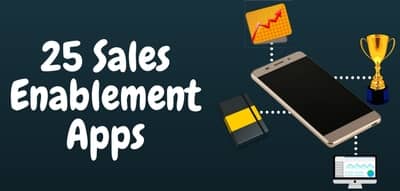 We've taken a stab at defining sales enablement. Now I want to take it one step further and provide you some of that enablement at your fingertips. Take a look at these 25 sales enablement apps. They're sorted under sales gamification, content, training and coaching, and analytics.
1. Sales gamification apps.
A LevelEleven survey says that 90% of companies that have embarked on sales gamification are successful, and 71% of these companies reported a boost in sales performance.
GamEffective: Some of the world's largest organizations such as Trane, PayPal, Microsoft, eBay, HP and more are using GamEffective to grow customer service quality, sales and learning. If you are trying to find a better way to manage employee motivation, performance and learning, then getting this app should be on top of your priority list. Set goals, create sustainable gamification mechanics and see your employees win sales at a faster rate than ever before.
RepTivity: This app is all about giving real times leaderboard score to your sales and customer support teams to promote team unity and a healthy competition. Located on the Leaderboard tab in Salesforce.com, RepTivity displays your sales rep's KPIs on a real-time leaderboard that can help you rank your sales reps and publicly recognize sales leaders in a format everyone can enjoy. Some of the other features include real-time ranking, email alerts, badges and TV screen display option for office wall hangings as well.
Bunchball Nitro: Add game mechanics to your work process, social interaction or learning activity. Arm your top-performing sales reps with online trends mined using big data. Improve individual and sales team performance, faster onboarding of new sales reps, retain top performers, and get more visibility into your sales goals and targets.
Badgeville: This is an enterprise gamification platform that you can make use of as a service. Their application connectors and API ensure rapid integration. The platform already tracks and rewards billions of actions per month.
GetBadges: GetBadges is a motivation system for teams that turns daily work activities into a game. You can assign and measure team goals, select your key performance metrics, and integrates with your SaaS tools.
Spinify: The Spinify chatbot 'Spinify Sue' will help you build leaderboards to motivate your sales team and reward individual performance with recognition. It's super-fast and easy to set up. All you have to do is answer a series of questions that will take you through the process.
2. Sales content apps.
We already have a post on tools to help you build your sales playbook. You can make use of these sales content creation platforms, as well as the apps mentioned below, to quickly and easily create, update and distribute the content your sales reps need to meet their targets.
Keynote: Keynote is a truly impressive presentation app that lets you create exceptional presentations either from scratch or select from one of several dozen beautifully designed templates. Built only for iOS, the latest version of this app lets you enhance your presentation skills using a library of professionally designed shapes, edit presenter notes while viewing slides, and easily edit presentations with the new light table view.
Bloomfire: This app is aimed at increasing virtual knowledge and information sharing in the workplace. This user-friendly app manages all your information such as sales documents, proposals, assets and other content that your marketing and sales team needs to convert your customers. Now find relevant information faster, and eliminate unnecessary information silos from your workspace and see the difference in your organizations with issues being resolved faster, having better content always at your disposal and closing more deals at a much faster pace.
Showpad: Showpad is another exciting sales enablement platform that helps sales and marketing deliver outstanding buying experiences to its customers. With showpad app on their devices, salespeople can discover, present and share the content that really matters, and stand out from the competition. Even marketers can make it a point to share their most effective content with sales through new a new immersive and refreshing interface and witness sales drive conversations based on their insights to close more deals, faster.
Seismic: Seismic is a leading sales enablement content solution app that allows marketing teams to personalize content at scale and equips large sales teams with the right content before going into every interaction. Most of the sales teams that have used seismic have talked about its simplicity and the ease with which it helps you find content. Also it gives you the versatility to change things on the fly. Along with that, you can use business statistics from Seismic to make more informed decisions about content and find out what value it brings to your organization.
Full Contact: Now you can stop worrying about keeping track of all of those business cards that have been offered to you ever since you have been in the sales business. With full contact, a contact syncing and management app, digitize your entire contact list instead and have access to it anytime and from anywhere. Contacts is one type of content that you need access to almost every time you are going to a sales call or a sales meeting. Keep your contact list updated, capture and sync more, view and manage company profiles for all your contacts, including size, founded date, and more straight from the app.
3. Sales training and coaching.
Brainshark: Almost half of the fortune 100 companies and many others across various industries use Brainshark to support mobile sales enablement, improve marketing effectiveness, deploy training programs and more. With this app in your phone, you can reach out to sales reps on-the-go, track when and how they engage with your content, and monitor what devices they use. Brainshark also helps your reps master your message and empower sales organizations with rich, dynamic content that can be created quickly and accessed through any device.
Expect Success: Expect Success is a very different sales enablement app that teaches its users how to plan and be successful in the sales world. An app that is geared more toward changing negative thinking into successful thinking, Expect Success offers a plethora of solutions for sales representatives, managers, entrepreneurs and anyone else seeking answers to be more successful in sales. This app features a variety of motivational and instructional guides that help you deal with today's well-informed customers and is constantly updated to help you throughout each and every stage of the sales cycle.
SuMo: SuMo from Cloudapps tracks your high-value, winning sales behaviors. The app deploys intelligent coaching that motivates users to pursue habits and techniques that deliver higher performance, and rewards them when they do.
QstreamIf sales managers and their teams spend just a few minutes a day using Qstream, you can improve sales performance without taking from selling time. Increase your team's retention of new information by up to 170%, and change behaviors that will impact the bottom line.
MindTickle: A sales readiness platform that you can use to coach and certify your sales reps' readiness to talk to your customers. Provide your reps a safe platform to practice their elevator pitches and product demos.
4. Sales analytics.
Funnel Source:Funnel Source is the highest-rated pipeline management and sales forecasting app on the Salesforce appexchange platform. Get powerful real-time sales analytics with on-demand insight into each and every part of your sales cycle. This allows you to strengthen your team members with real-time reports and pipeline visibility and keep users up to date with actionable statistics on key performance metrics. Use this tool to monitor health of your pipeline and analyze trends on all your weekly and monthly orders.
Tout app: There are amazing things hidden inside this very powerful sales enablement app, and has very recently been acquired by Marketo in an effort to bring sales and marketing together around customer engagement. Basically, it lets you integrate your CRM, email and phone into one unified platform from where you can handle every stage of the sales cycle, be it increasing your sales pipeline, driving consistency and productivity throughout your processes, or accurately predict opportunities and manage your reps with actionable insights.
LinkedIn Sales Navigator: Finding leads, reaching out to them, and selling on the world's largest B2B sales network is made easy using LinkedIn Sales Navigator. This app is perfect for discovering new leads on the go. The biggest advantage is that you get real time lead updates and can send InMail private messages to decision makers, even those who are not directly connected to you. Find and save promising prospects, or collaborate with your team members to discover who on your sales team knows a prospect prior to entering a meeting.
Another fascinating sales enablement app, Costrategix illustrates the return on investment to the buyer in a matter of minutes. Your sales team can quickly navigate through a series of questions and pull out proper real-time measurements and cost savings that are possible by purchasing their premium product. This mobile app demonstrates critical ROI in a limited amount of time, all in one central location on their device. The app collects all the interactions in ways that can be mined for insights periodically to further improve selling conversations.
Tradegecko: Tradegecko is an inventory and order management software, that lets you manage all your products, orders and customer management needs straight out of your mobile. If you happen to be an inventory-based business, then Tradegecko will not only help you save more time, but will also help you sell more, work smarter and help you gain back control over your commerce business. Also it might happen that you find a customer while sipping early morning coffee. Leave them in awe by showing them your entire product catalog right in your mobile, and store and save contacts directly with the help of the app.
Putler: Putler is an eCommerce reporting and analytics platform. It gives you complete access to sales figures, customer activity, and product performance metrics. A single dashboard shows you all your important metrics including canceled subscriptions and the customer churn rate, lifetime value, and recurring revenues.
Optymyze: This platform combines the power of data with a wide range of applications to improve sales performance and team effectiveness.
SalesRabbit: This app will help you Increase hours worked by your sales reps, their contact volume, close rates, and the average sales figures per rep.