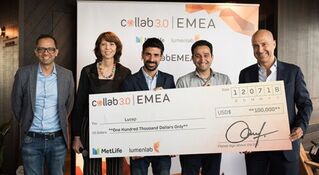 A few days ago at an event in London, Eric Clurfain, Head of MetLife EMEA, and Francoise Lamotte, Head of Direct and Digital, MetLife EMEA, called the founders of Lucep on stage to hand over a large check for $100,000, as the culmination of a global contest involving 148 startups from 32 countries.
Back in March, MetLife EMEA and Lumenlab (MetLife Asia's innovation center) announced Collab 3.0 EMEA. Collab is their innovation program to match insurtech startups with the right opportunities within MetLife, through a contest in which eight startups are selected to compete for a $100,000 contract from MetLife.
MetLife and Lumenlab invited Collab applicants to work with them on challenges across five areas:
A. Product and Pricing: Big-data pricing models; flexible products; instant quotations; and sophisticated individual underwriting.

B. Claims and Payments: Integrated medical data; simplified premium payments; and streamlined claims.

C. Distribution: Digital sales solutions; improved needs analysis; and personalized online advice.

D. Customer Engagement: Enhanced customer loyalty; and guiding customers through life events.
MetLife, Inc. (NYSE: MET) has over 100,000,000 customers worldwide, and operates in 26 countries in the EMEA region alone. The eight startups competing for the contract would gain access to MetLife's ecosystem and the validation of a leading US Fortune 50 customer.
In May, we were thrilled to learn that the eight finalists announced included Lucep. It was an honor to be chosen out of the pool of 148 insurtech startups that submitted applications.
In the two months following being shortlisted, our MetLife Business Sponsor Nuno Costa, Head of Direct and Digital Sales for MetLife in Iberia, supported by Champions from across EMEA, helped us understand the business and we jointly developed a solution tailored for MetLife in the region.
The time we got with Nuno, our business sponsor as well as the other Champions from MetLife EMEA was really invaluable to us. They were really open about the problem statements they had and gave us access to their data to allow us to model how our solution would work.
Lucep's Cofounders, Kaiesh Vohra and Zal Dastur arrived in London to participate in the Collab Summit and to pitch our solution at a demo day event.
This pitch won Lucep $100,000, and the fact that MetLife ultimately chose Lucep validates the direction we're taking in terms of our solution for the insurance industry. It's a big boost for us.
Winning the MetLife Collab 3.0 is an absolute honor for the team at Lucep. It shows the value that we bring to the insurance space and how we can make significant changes to customer engagement and conversion. We are very excited to be working closely with the MetLife team and hopefully bringing the Lucep tool to more markets.
Eric Clurfain, Head of MetLife EMEA, said in the release that "We are looking forward to partnering with Lucep to develop this exciting solution further to drive value for our business and enhance the experience for our customers."
Zia Zaman, LumenLab's CEO and Former Chief Innovation Officer of MetLife Asia, congratulated Lucep and said "We look forward to working with them, and possibly other finalists, as we continue to transform the insurance industry and the way we interact with our customers through innovation."
Lucep likewise eagerly looks forward to this exciting phase in our growth, working together with MetLife to put the customer first, leading the way for an insurance industry that's starting to navigate the challenges of digital transformation.