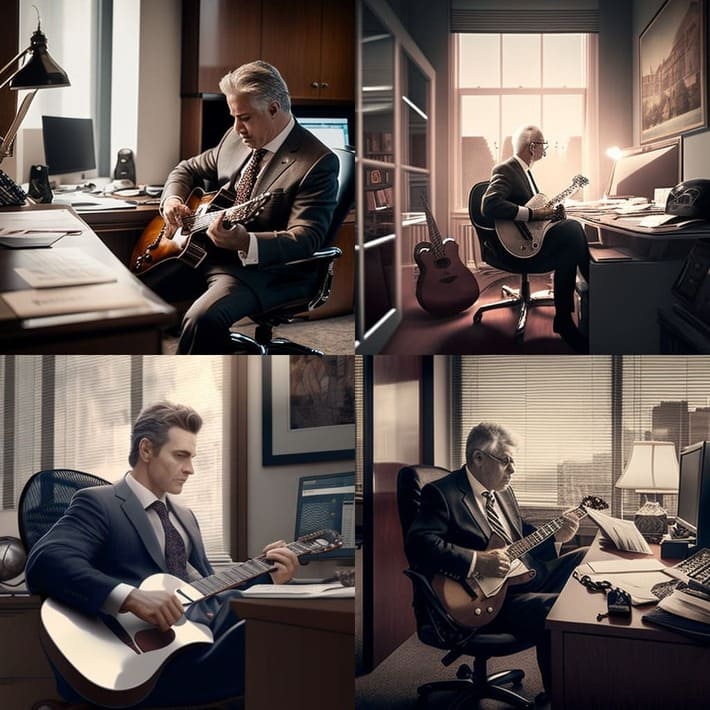 5 Business leaders with a passion for Music
A company's CEO is supposed, by definition, to be extremely capable of overseeing and executing business activities and plans that have been laid out. But there's a different part of the brain that may have the very important role of a muse in this - inspiring the CEO and the people he leads to do a better job.
In this post, we list five business leaders, whose passion for music has become the driving force behind their creative and visionary leadership of the business and brand.
Kamal Sagar, Total Environment Building Systems

Kamal Sagar is the founder of Total Environment Building Systems. The company is known for creating luxury residential and commercial properties that are designed to be environmentally sustainable.

Some of their notable projects include the Inscape residential complex in Bangalore and the Windmills of Your Mind office complex in Hyderabad.

Kamal Sagar is an architect and urban designer by profession and he is known for his focus on designing creative holistic spaces that are sustainable, healthy, and livable.

Where does it come from? It is Kamal Sagar's passion for music, which has translated into the Total Environment Music Foundation, a non-profit initiative of the Total Environment group, set up with the vision to engage socially through music that is engaging, provocative and intense.

In an interview with Kamal Sagar, RollingStone magazine notes that his music has always found resonance in his work - helping him and wife Shibanee create aesthetically superior real estate projects.

Some of Total Environment's projects are even named after songs and music, such as Shine On You Crazy Diamond (Pink Floyd), Raindrops Keep Fallin' on My Head (hit single by B. J. Thomas), and Pursuit of a Radical Rhapsody (located in Whitefield, Bangalore).

(Photo - Total Environment)

V. Vaidyanathan, IDFC First Bank

V. Vaidyanathan is the First Managing Director and Non-Executive Chairman of IDFC First Bank. IDFC First Bank is an Indian private sector bank which was formed after the merger of IDFC Bank and Capital First Limited in 2018.

Vaidyanathan is a financial services veteran with over 30 years of experience in the industry. He was the founder and CEO of Capital First, a leading NBFC in India, which was later merged with IDFC Bank.

Prior to this, he has held various senior positions in ICICI Bank, Citibank and ANZ Grindlays Bank, where he was responsible for establishing the retail banking, consumer finance, and SME businesses.

He is known for his focus on providing financial services to the underbanked and underserved segments of the population, and has won the ET Most Inspiring CEO Award.

Where does it come from? Mr. Vaidyanathan has sung on stage with Amitabh Bacchan, and has been a regular performer at Genesis Foundation's "CEO sings for GF kids" events in Delhi

It's something he does as part of many such admirable gestures of philanthropy, including gifting 900,000 shares out of his holding in the bank to his household and office support staff for building homes.

This passion for helping people motivates IDFC First's staff and brand, which is positioned with a focus on ethical banking and sustainability initiatives

(Photo - IDFC First Bank)

The bank has won multiple awards for "Best Sustainable Banking Strategy," "Most Innovative Bank," "Excellence in Water and Sanitation Financing, and has also grown their home loan business by 44% year-on-year.

Divya Gokulnath, Co-founder BYJU's

Divya Gokulnath is the Co-founder of edtech unicorn BYJU's, which is an Indian educational technology and online tutoring firm founded in 2011.

She is responsible for the overall design and development of the company's content and curriculum. How did BYJU's become India's most valued startup, and the world's largest edtech? One of the driving forces is Divya Gokulnath's passion for life-long learning and desire to share that knowledge, in all its forms.

Divya has been singing since the age of 5 and trained in Carnatic music for many years. If she had not become a teacher, then she says she would have become a singer.

Watch video - Divya Gokulnath: Smarnanjali.. a tribute to the soldiers of our country

Listen to the song in the video above (ae mere watan ke logon) - a tribute to India's soldiers, and you can tell that it would certainly have been possible.

Goldman Sachs CEO David Solomon

David Solomon is the current CEO of Goldman Sachs, a multinational investment bank and financial services company. He succeeded Lloyd Blankfein in 2018 and has been with the firm for over 20 years.

Prior to becoming CEO, Solomon held various leadership roles within the company, including co-head of the Investment Banking Division and co-head of the Securities Division.

(Photo - Payback Records)

Since being appointed as CEO in 2018, Solomon has started pushing for change in the 153 year old banking institution, which is pivoting towards consumer banking.

He has relaxed dress codes, and encouraged Goldman Sachs employees to be entrepreneurs, finding new ways of servicing clients and growing the business.

It has helped them attract and retain younger people, and the results for Goldman Sachs has been a mixed bag.

But in 2021, the company did generate its highest revenue and profit since 2007, and the deposits from the new consumer banking foray are helping prop up their traditional business.

David Solomon applies this strategy to his own life and career as well. He has a "side hustle" - as a DJ, going by the stage name of D-Sol at Lollapalooza, Chicago's famed music festival.

Watch video - David Solomon - Learn To Love Me feat. Ryan Tedder (Official Music Video)

Also in 2018, David Solomon launched a music label called Payback Records, a socially-conscious music business that donates all its proceeds to non-profits working to help those with addiction issues.

Cai GoGwilt - Co-Founder and CTO - Ironclad, Inc.

Cai GoGwilt is contract management platform Ironclad's CTO and co-founder. Before that, he was a software engineer at Palantir Technologies, and is a Physics and Computer Science major from MIT.

After doing his job as a software engineer and leader by day, he spends his nights as a concert cellist and karaoke enthusiast. He stops thinking about work after leaving the office, and starts working on the music he's about to perform.

He says his passion for music helps sharpen his technical skills and informs his leadership style, because it makes use of a different set of skills and brainpower.