Every sales organization, big or small, typically begins their journey of automation by adopting a CRM. However, CRM is not marketing automation by itself. It's a tool to store, access, distribute and manage lead data. It's not a magic wand that generates leads and converts them into sales revenue, and the data still has to be entered manually into the CRM.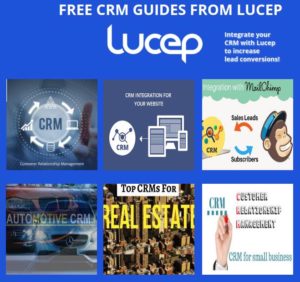 What you really need is a CRM "and" tools that will combine to automate your entire process of generating leads, and possibly some of the subsequent stages of your sales funnel. These marketing automation tools will help you in targeting and handling all of your top-of-the-funnel activities, such as when they visit your website, read your blog, fill out a form, open an email, or respond to you on social media.
The idea is to push them into the CRM at the first point of contact, regardless of the lead source, and then your sales process is the same for all the leads in the CRM. Now let's look at how to set up this CRM marketing automation to streamline lead management for digital channels.
1. How to set up marketing automation for social media
If you are good at social media (or willing to spend the resources needed for paid ads), then you have a lot of leads coming in from LinkedIn, Twitter, Facebook and other social networks. That's fine, but now you have to either feed in data coming from each social channel manually, or get a marketing automation tool that does it for you.

Automation tools like Hootsuite can be a real timesaver. You can manage each of your social media channels from a single dashboard, at anytime, from anywhere. When you start using Hootsuite, you will find that some customers seem to be more interested in your company than others. When they click on links in your posts, like and comment on your articles, or enquire over chat regarding your product, these are the signs of a potential marketing qualified lead (MQL), and you want to follow up on these leads.

Integrating Hootsuite with your CRM can help you save you a lot of time and effort as new leads can be created in the CRM from your social profile data, in addition to searching for and adding social data to existing leads or contact records. You can set up triggers for action that your potential lead takes, so that they can be automatically added to your CRM.
2. How to set up marketing automation for your website
Marketing automation tools will reach out to your visitors and turn them into customers, while a CRM will help you keep track of that. What you really want from your website is more leads, more customers and more sales. So let's do this particular automation by selecting a customer engagement tool for your website.
A call back tool can connect you with your customers right then and there. After installing the widget on your website, your visitors can click on the widget feed in their contact details and get a call back instantly from a sales / customer support rep.

We have gone the extra mile by not only enabling such website call backs, but also providing you the ability to track and manage customer data.
Just like a CRM, Lucep also provides detailed insights about who your website visitors are, how they have been interacting with your organization, the history of contacts and touches, and other lead information that helps you generate and convert more leads from the same traffic you had before.
The bottomline is that you won't be missing your CRM ever again.
3. How to set up marketing automation for email marketing
As discussed above, automations are triggered when specific people meet the predefined criteria that you have set for them. In your email campaign, when you send out an email, you want people to interact with that content. Mailchimp's marketing automation platform offers a number of automation types, and you can also create your own custom automation.

After selecting your automation type, add your content and set your delivery criteria. MailChimp's automation tool will take care of the rest. It will manage your subscriber queue and automatically send emails. After their first email message, they will automatically get followup messages under the automation type that you have set. With so much control over your email campaigns, you can easily increase your email marketing conversions with personalized content, win back lapsed customers and boost customer loyalty.