A lead called within 5 minutes of requesting information is over 10 times more likely to answer, and is 4 times more likely to qualify as opposed to leads called in half an hour. But you can't provide this kind of instant response for the volume of queries handled by a call center team… unless you equip your inside sales reps with the right tools.
In this case, the core part of the inside sales tools stack needed is the CRM, and the sales dialer that integrates with it. If you are setting up an outbound sales operation, then you also need a CRM and one of the call center dialer software in this list below.
1. Power Dialer from Insidesales.com.
The Power Dialer from Insidesales.com is currently the most popular Inside Sales dialer software in the market. It's a highly effective sales enabling tool due to its well connected systems that find and manage more leads, instead of just being a dialer and an app.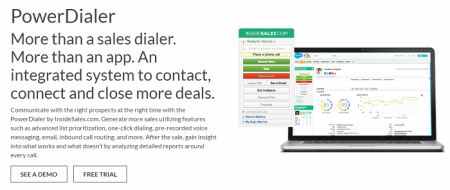 Along with single-click dialing, you get voicemails and emails as well. It automatically updates all records directly into your CRM, making it that much easier for your inside sales team to reach out to more leads faster.
2. InsideSalesBox.
Inside Sales Box has a powerful sales dialer that will take your prospecting game up a notch or two. This is done with the help of automatically queued up leads based on priority, so that your sales team's time is not wasted on calls that are unlikely to convert.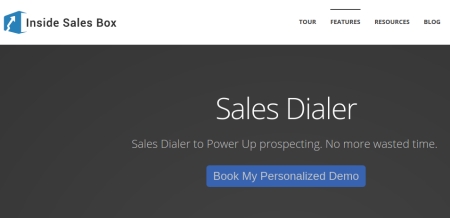 After a call, you can even send follow-up emails using InsideSalesBox. So come up with innovative ways of combining calls with emails, and add them to the tool to close more deals faster.
3. Dial Fire.
Easy to set up and get started with a campaign, Dial fire instantly turns your browser into a complete outbound call center with a predictive dialer that can automate workflows to help you make more calls in the same time. Now blend inbound calls with outbound campaigns in a such a way that does not cause a bottleneck for your inbound callers, especially during peak hours.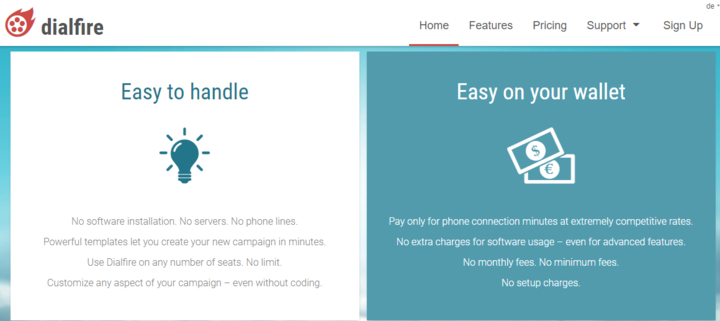 Dial Fire comes packed with powerful templates that let you create your campaign in minutes, for unlimited seats. You can also share campaign tasks with another call center in case of multiple tenants.
4. Sales Dialers.
Sales Dialers is a simple yet effective suite of online dialers, sales tools and data resources that is designed to help businesses in marketing, lead generation and other inside sales activities.

This web-based dialer CRM makes the dialing automation process a whole lot easier for sales professionals, telemarketers and call centers, which in return helps them increase their sales. So whether you're cold calling prospects or generating new leads, it has what it takes to give you the tools, support and resources needed to hone your skills and help you generate more sales.
5. Ring.io.
Improve productivity and gain insights into your sales and customer support activities with this CRM integrated inside sales dialer software. Ring.io helps with sales team acceleration by allowing sales and support reps to do all their calling activities directly from their CRM, and it automatically logs those calls for performance tracking.

Crush those numbers by making more calls, increasing connect rates and coaching your reps to success.
6. SalesLoft.
Going from manual to power dialers can significantly boost productivity and cut down on dialing time. SalesLoft's sales dialer is one such tool that will help you with all this and more.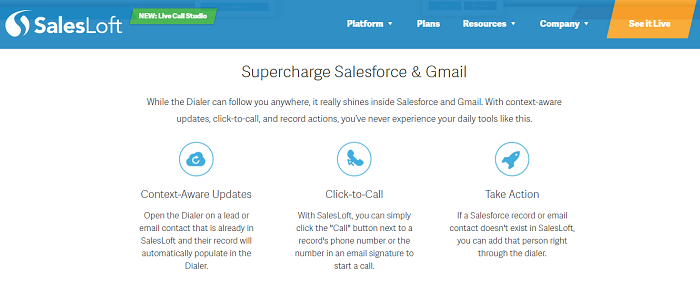 You can enhance your existing dialer experience by having every call forwarded to the phone number of your choice, so that you never miss out on a call again.
7. Five9.
Five9 is a powerful inside sales dialer that helps today's savvy B2B companies emphasize more on their inside sales departments. You can improve your team's performance by reaching more prospects in less time, leading to an increase in productivity of up to 300%.

Like all other inside sales dialers, Five9 too has a smart dialer that predicts when agents are available and optimizes accordingly. It has an onscreen caller info popup that shows you all the available information and history, and an intelligent routing system that distributes leads through to the right agents.
8. Tenfold.
Inside sales and Panasonic came together to come up with  Tenfold, which is software that provides a 360-degree view of your customers across all systems. One of the tools included in it is a cloud-based predictive dialer solution that seeks to help businesses streamline their call center operations.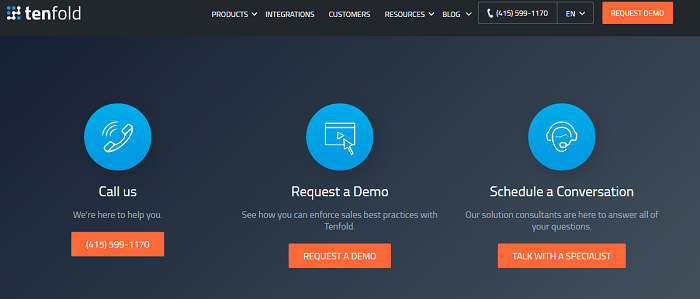 By connecting it with your CRM and lead management solutions, you can automatically log calls from the tools itself. The dashboard of the software has a calling list that can can be prioritized according to business rules, and you can also track all agent activities and call center KPIs in real time.
9. Leadscore.
Automatic logging increases your team's calling productivity and Leadscore uses it to make every call count and increase the number of productive calls in a day. Along with one click dialing, you can even track and optimize both incoming and outgoing calls and have in-call data right in front of you.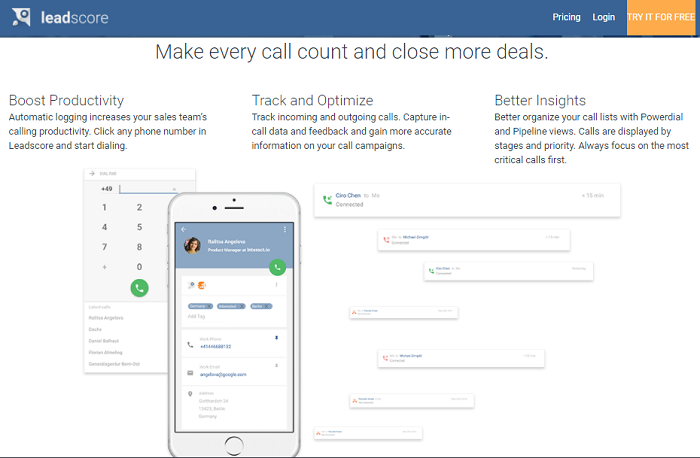 Some of the popular features of Leadscore that differentiates it from the rest include No Manual Logging that lets you automatically add calls you have made to the right contact, and a Mobile CTI which lets you call your customers from mobile apps which will be synced in real time.
10.
Impiger Technologies.
Impiger's Sales Dialer is a cloud based sales engine that also delivers SMS and emails along with voice calls to your target customers, improving mass marketing efforts by upto 80%. It is currently being used by over 500 customers, many of whom talk about the increase in ROI after they started using it.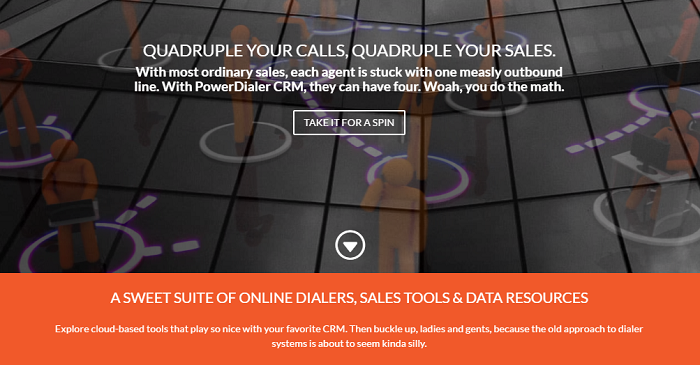 It also has an automated IVR and can dial over thousands of calls simultaneously to ensure agents are available on live calls all the time.