Lucep is in the business of selling a B2B sales tool, so we basically have to convince every client that we know how to help them sell more, and get more leads and conversions from their existing lead generation channels.
Since we respond to requests for callbacks from hundreds of businesses from all parts of the world, the answers we give them are tailored to match their specific B2B market. In this post, I want to share with you some of these answers – about how to break into a specific B2B market.
North American B2B Market
This is an excerpt from a B2B market research study prepared for Lucep by a team from the IBD program at the Haas School of Business, UC Berkeley. The information below is particularly helpful for B2B SaaS companies, car dealerships, personal injury lawyers, real estate service providers and other sectors where a fast response to website leads is particularly important.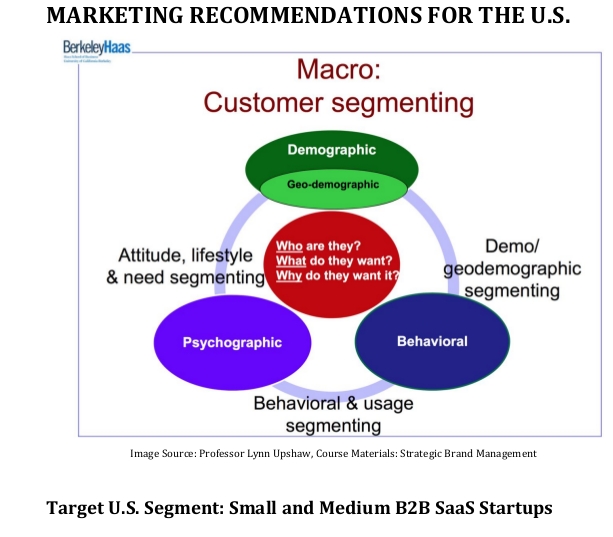 This is the target demographic you should be looking at:
Demographic: B2B SaaS startup company CMO/CEO, Male, 28-38 years old
Behavioral: Early technology adopter. Uses an array of SaaS tools to run company ecosystem. (Slack, Pipedrive, Marketo, etc.)
Psychographic: Serial entrepreneur, avid biker
We found that U.S. companies even at the early stage of 10 employees adopt many of the same technology software that the larger companies use (example: Gitprime uses Salesforce Enterprise).
U.S. companies that operate in more competitive industries are acutely aware of the need to respond to customers fast (example: Intermedia). Based on our conversations with Sift Science, ExtraHop, and Clavis, we recommend focusing your marketing efforts on companies operating in SaaS sectors with stronger competition and shorter sales cycles.
For example, SaaS marketing analytics platforms like KissMetrics, Mixpanel, GoodData where brand differentiation is low, value propositions are similar and competition is heavy.
Customer Acquisition Strategy: US SaaS Companies
Another driving factor in the U.S. is the copy culture in relation to borrowing business models and tools from other often larger companies. Companies of all sizes, especially at the smaller scale, look up to their bigger brothers for advice and guidance. Companies often write blogs on how they successfully integrated a certain mix of SaaS packages and tools to achieve great results in their sector. Lastly, savvy investors' "smart money" provide advisors to funded startups that help them achieve maximum performance with minimum human capital.
Due to high costs of human capital and major difficulties on attracting good talent to early stage startups, (6+ months for senior positions at Gitprime, Intermedia, Gbox), companies often have to rely on tools and automation to reduce workload and run as lean as possible.
Asia Pacific B2B Market
This is a video from a "Sales for Startups" event, in which the panelists shared their experience and knowledge of breaking into the B2B market in Asia-Pacific, in Singapore and Hong Kong and other parts of South East Asia.
B2B Market in India
To explain the SME B2B market in India, which is the second largest sector driving the country's economy, I'm going to refer to a section of the aforementioned UC Berkeley report.
They interviewed executives from some big companies whose clients are also businesses and got some valuable insights into how these companies have successfully targeted the Indian SME and start-up markets.
The below excerpt from the UC Berkeley report is based on interviews with executives from Tally, the largest and most popular accounting software solution provider in India.
"The traditional brick-and-mortar SME market is much different. Tally has identified a total of 56 million SMEs in India. Of these, only 6-8 million are potential customers for Tally's accounting software from Tally's perspective. Of the 5-6 million Indian SMEs currently accessing Tally's product legally or illegally, only 6% are purchasing over the internet, 65% of whom are resellers who have run out of the product. Tally sells exclusively through resellers and 80% of new business comes through referrals. It typically takes 1-2 weeks for a referred lead to be reached out to. Tally saw potential upside in reducing that time, but only if the contact was recorded. Tally built its own lead management tool rather than spend the "way too expensive" $3-5 per user per month for its network of 4,000 authorized resellers."
This is the simplest and most effective way for B2B providers to target the Indian SME market. You need a network of resellers who will serve as brand evangelists, recommending your solution to their customers.