The fact that you're looking for lead tracking software is a good thing. It means your business is growing fast enough that you are not able to keep track of every lead manually. But before you start deciding what to download, install or buy, take a step back to consider the goals.
The primary goals (desired features) of a lead management system or process are to ensure proper lead response, lead scoring and grading, lead nurturing, lead tracking, and conversion metrics to help you calculate marketing ROI in terms of leads generated by each campaign.
A lot of CRMs and lead management systems now offer online and offline lead tracking, and there's always Google Analytics if you want a mountain of data on each website lead. On the other hand, you can just as well whip out a spreadsheet and tell everyone to update the status of each lead after every contact.
But if you want to keep it simple, here's a list of lead tracking software, tools and apps that will do the job without complicating your job.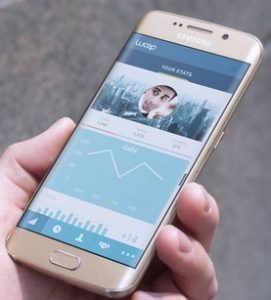 1) Lucep: Our lead response philosophy is simple and highly effective – be the first to respond and engage with the lead before the competition enters the fray.
(Lucep, an instant response callback tool, makes it easy for your website visitors to get an instant callback from a member of your sales team. Take the free trial. Talk to your customers now.)     
The Lucep widget also doubles as a traffic analytics tool that can track leads and visitor behavior on your website. Combined with the Lucep smartphone app in your sales team's phones, you can track leads from where they enter your website to where they raise the query, what kind of response they get from Sales, and what was the result.  
Since we're able to track leads and provide all kinds of visitor data, the weekly report you get is a summary of website traffic, leads generated and converted, and the week-on-week changes in these metrics. Want more data? You can integrate Lucep with your CRM and other sales tools, and transfer all the data from Lucep directly into your system.
2) Zoho: Their suite of online productivity tools and SaaS applications, which includes a CRM and a traffic analytics tools, has over 20 million users. You can integrate Zoho SalesIQ (website live chat, visitor tracking software and analytics) with Zoho CRM to enable lead tracking.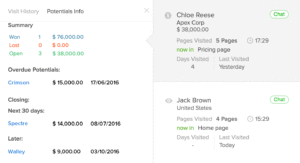 If someone on your website wants to chat, you'll know whether you're talking to an existing customer or a new visitor. You can set it up to get notifications when a hot prospect revisits your site, see their deals in the pipeline, and make sure that their queries are handled as a priority.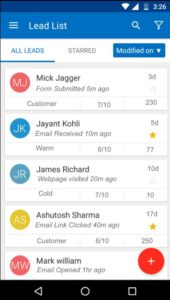 3) LeadSquared – The LeadSquared app will help you prioritize your lead response and follow-ups based on what your leads are doing. You can identify which leads to call based on factors such as engagement score, activity history and lead stage.
You can also create a list of favorite leads that are ripe and ready for conversions. You can also calibrate your lead response based on lead activity, and also respond to new leads instantly as and when the app shows that a new lead has been assigned to you.
4) Bitrix24 – This is a full-fledged lead tracking software that is available as a cloud-based SaaS solution, and also as software that you can host on your own server. Bitrix24 will capture every lead's complete sales cycle, all the way to conversion. Includes support for outbound sales processes such as call center and email marketing, in addition to tracking inbound leads from your website.