Using click to call for your website will help you generate more leads online through fast response to queries raised by website visitors. Before getting to the part on how to implement click to call functionality, let's just take a minute to understand why you need it.
The conversion rate of a website varies across industries, but is typically between 2-3%. This means that an overwhelming majority of your website visitors are leaving without delivering any benefit to your business.
If this happened in a physical store, you would be seriously worried. Think about it – A hundred people walk into your store, and only 2 or 3 of them walk out as customers. That would mean something wrong with your product, sales pitch and/or the store itself, and you would instantly take action to rectify the situation. So here's the question – do you know how many of your website visitors are leaving empty-handed, and why can't you do something to fix it?    


You can start by reading this article on the top 5 Reasons Why Your Visitors Are Not Contacting You. But, whatever be the reason, the solution is to make the website better. For instance, one thing that you can do is make it easier for your customers to talk to you.
You might argue that your  'contact us' page has a contact form, your email address, and even a phone number and address. Yes, that works for the few customers that are really interested in your product and won't leave without going to your contact page, dialling that number and giving you a call right  away. You can also provide your contact details on every page, to save your website visitors the trouble of clicking through to the contact page. But the problem is that most of them aren't that motivated enough to pick up their phone and call you.
The thing is that customers want to feel valued by the business, which means you are the one supposed to be calling them. If you make them call you instead, it does not show that you value them. A callback mechanism which enables you to call them at exactly the time when they want to talk to you is the perfect solution to this problem.

How to Implement Click to Call For Your Website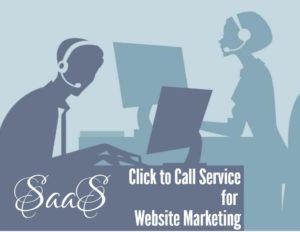 There are two ways to implement click to call for your website. One is that you can ask your web developer to code a click to call button for you. The other option is to use a SaaS Click to Call Service where you sign up and activate it instantly on your website in a few minutes – no programming or web design knowledge needed. No time delays, and no technical expertise required.
Apart from instant response, there are quite a few benefits to using a SaaS service, as opposed to coding your own button. This includes intelligent lead distribution, instant notifications to sales team members, lead tracking, traffic analytics, conversion data, and CRM integration, among others.
You can install Lucep's SaaS click to call service in 3 easy steps:
Sign Up

for the free trial available;

Get a snippet of code and add it to your website template; and

Log in to your Lucep dashboard and customize the look and feel of the widget that visitors will see, so that it matches your website template.
How Does Click to Call For Your Website Work?
There is more than one way to implement click to call. Lucep's widget and app are powered by an Artificial Intelligence engine that facilitates an instant callback to queries raised by website visitors. The AI engine instantly sends out a notification to the most suitable sales team member who is available at that moment. Your sales team members need to download our app in order to receive these notifications and get connected to the lead. The AI engine manages the lead distribution process in between the website widget and the mobile app.
Using this kind of callback, you can contact website leads in less than 60 seconds. Studies published by InsideSales.com and HBR show the benefits of instant response to sales leads. Also, your sales team member gets relevant details and demographic information on your lead in the notification. This will further assist you in qualifying the lead and/or closing the sale.
Once the callback request has been answered, the call is recorded and you have all the lead generation and conversion data you need. This includes the name and phone number of the lead, plus all the traffic analytics data (location, website page views, time spent on the site, etc.) from the website that is collected by the widget, and also what happened after the call.
For example, a lead may request a callback, talk to your sales rep, and then go back to the website to sign up or buy your product/service. In this way, click to call for your website will track the entire progress of a lead from the time they enter your site to the actual phone call and the follow-up that happens afterwards.
Speaking of follow-ups, you can also integrate the tool with your CRM. This means that the lead data collected will be automatically added to your sales pipeline, and you can follow up after the initial instant response as you would with any other lead in the system.
The best part is that it brings website leads offline, where you can talk to them in-person. This by itself will increase your lead conversion rate by more than 50%, since inbound phone call conversions typically convert more than half of the time.

This sort of click to call functionality on your website gives you everything from fast lead response, lead notifications, traffic analytics data, call recordings, conversion stats, conversion rate information, and other useful metrics that will help you generate more leads, and convert more of the generated leads.